National Corruption Club: Only 'Billionaires' Allowed
29/03/2018
Mallya, Nirav Modi and now Chanda Kochar: India's economic elite are fast becoming the most corrupt and unaccountable section of the society.
WONDER
Mallya, Nirav Modi and now Chanda Kochar: India's economic elite are fast becoming the most corrupt and unaccountable section of the society. Widespread economic looting, carefully planned frauds, mis-utilization of collective resources and exploitation of people's money is no longer a rarity.  Business and power connections nurtured by an infrastructure of elitist preferences reduce the national economy into the copyright of a chosen few. How long will the common masses be misguided? Is governmental responsibility a myth?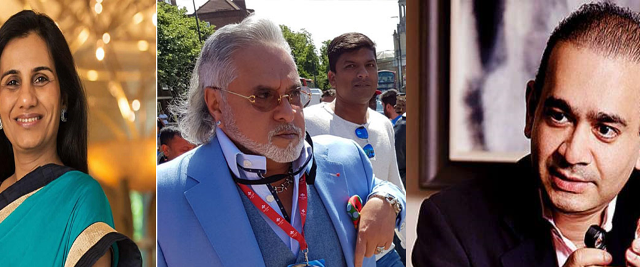 ICICI  Bank CEO Chanda kochar has been alleged of  favouring Videocon Group in its lending practices. Multiple reports spread in India last week, referring to an alleged conflict of interest in ICICI's lending to Videocon, asserting that the conglomerate was favoured by the bank's CEO.
---
To retain our initiative towards free spirited and independent journalism we require your support |Pay Now
---
It was in 2008 that the CEO's husband set up a company in collaboration with Videocon involving many other relatives. This company got a loan of Rs 64 crore. Subsequently a trust took over the company for just Rs 9 lakh. The news has come at a moment when the Indian banking sector under scrutiny after the Punjab National Bank said last month that it had unearthed a fraud worth 2 million dollars.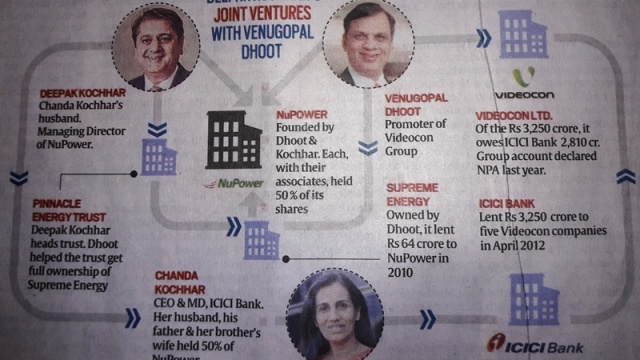 The data has come at a moment when Indian banks are finding it difficult to tackle problems of record.Nirav Modi has been found to cause a fraud of 1.8 billion dollar. The businessman and his relative Mehul Choksi together with many employess of the PNB bank have been held accountable for the fraud. CBI has arrested nearly 14 people but the two main guilty are not arrested now.
The owner of Kingfisher Vijay Mallya has been involved in loan defaults of a total of Rs 9,000 crore. The CBI's investigation is on in this matter but Mallya has left the country. It is known that Mallya is in the UK and has refused to turn up before the courts.
These are few of the names that have been revealed. Maybe some more shall join this brigade.  Can we afford to ignore them? Is public accountability nothing apart from a mockery?
Now that you are here...
From bottled water to oxygen cans, not even the basics are free in a market-driven world. Why then, do we take free and independent journalism for granted? We find ourselves at a time when more people like you, are reading and coming out in support of The New Leam's independent, in-depth and throughly issue based journalism than ever before. From grassroot stories and field-reports, to in-depth analysis of the pertinent political issues of our times, to news on gender, culture and educational issues- The New Leam has been dedicated to bringing out stories that speak out the soul of India and take you beyond the propaganda-filled corridors of mainstream journalism in India. We have made an important choice of keeping our journalism free of vested political interests, commercial funding and influence of partisan stakeholders, so that we can bring forward news and stories based on facts and provide a platform where readers can find information with integrity and a journalism premised on honesty.
Your support to The New Leam is your contribution towards giving a voice to the voiceless, going to the depths of issues that others shy away from and rigorously illuminating the flame of criticality and courage in dark times. We hope that you will come forward to support The New Leam today so that we can keep delivering quality-independent journalism to you and inform public opinion in the right direction. No matter how big or small your contribution may be, it is tremendously important. It takes only a moment, Support The New Leam now!