Only Superman and Not Kanhaiya Can Fail Eleven Times When There are no Examinations in Ph.D
25/04/2018
No university conducts exams for Ph.D. students and Kanhaiya Kumar is such a student in JNU. Unless he is Superman, it is beyond Kanhaiya to fail his examinations any number of times because no examinations are conducted in the program he is admitted to.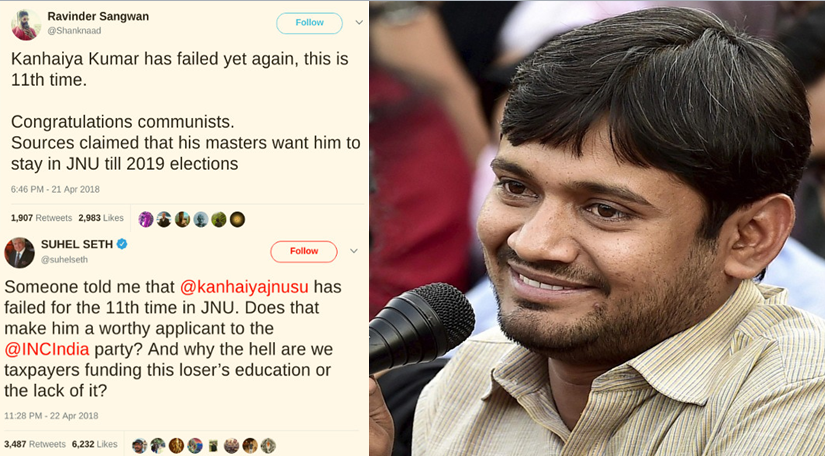 COMMENTARY
No university conducts exams for Ph.D. students and Kanhaiya Kumar is such a student in JNU. Unless he is Superman, it is beyond Kanhaiya to fail his examinations any number of times because no examinations are conducted in the program he is admitted to.
---
Aakash Ganguly was student of JNU from 2012 -2014. At present, he works in Mumbai as a documentary filmmaker.
---
To retain our initiative towards free spirited and independent journalism we require your support |Pay Now
---
---
It is widely known that no university holds an examination for students who are in their Ph.D.  Students who have taken admission in Ph.D. are asked to submit a thesis which is evaluated and a degree is awarded on the basis of its credibility. Student leader and earlier JNUSU President Kanhaiya Kumar is a Ph.D student in JNU. and is required  to do submit his thesis for the degree. It is paradoxical that in the age of information revolution and the widespread utilisation of gadgets and media, the Indian public is unaware of how the education machinery functions. 
It is painful to know that for a great section of individuals there is no demarcation between a school and a university in terms of the transmission of knowledge. A set of textbooks, teachers whose prime work is to cover the syllabus and conduct examinations, learning by memorization and vomiting of undigested information in yearly examinations and a system that gives importance to rank holders is  all prevalent within the Indian school machinery but it is important to acknowledge the fact that the way students learn,  relate to their pedagogues,  choose their area of concern and build upon knowledge in their fields is completely different in the context of universities. 
It is important that a university allows in depth research to take place and scholars to spend their hours in national archives, in libraries, in their fields and amidst people to contribute to prevalent work in the field.  In the age of hyper-media and the proliferation of triviality in the name of information, it is not altogether unexpected to see that ordinary masses are not even aware of the idea that a university unlike a school, is about deeper research and not rote learning and mechanical reproduction. JNU is accustomed to being condemned for all kinds of reasons and among these the most fashionable condemnation is about wasting the money of tax payers. 
Any individual partially aware of the education system would know that completing an M.A. takes two years, an M.Phil. takes two years and a Ph.D. another four years.  The time that one spends in a university like JNU then would be seven to eight years if one decides to work towards a Ph. D.  It is not a diploma that can be completed in six months or a crash course in spoken English that can be done in 90 days. Research takes time and so does writing a doctoral thesis.  The information that was circulated in social media is that Kanhaiya Kumar failed his JNU exam eleven times and continues to be a student wasting the money of tax payers.  JNU or any other university does not have exams for Ph. D students; do its impossible for Kanhaiya to fail. 
Kanhaiya will submit his thesis on 'Social Transformation in South Africa' by July, 2018.  It is Kanhiaya's seventh year in JNU and not his 11th year, it is clearly impossible for his to fail 11 times by any stretch of logic.  Individuals who give their hard work and time to misleading public perception should do some amount of homework. The social media that has become the public educator can be utilised better to enable social transformation than propagate unaccountable facts.
***
Now that you are here...
From bottled water to oxygen cans, not even the basics are free in a market-driven world. Why then, do we take free and independent journalism for granted? We find ourselves at a time when more people like you, are reading and coming out in support of The New Leam's independent, in-depth and throughly issue based journalism than ever before. From grassroot stories and field-reports, to in-depth analysis of the pertinent political issues of our times, to news on gender, culture and educational issues- The New Leam has been dedicated to bringing out stories that speak out the soul of India and take you beyond the propaganda-filled corridors of mainstream journalism in India. We have made an important choice of keeping our journalism free of vested political interests, commercial funding and influence of partisan stakeholders, so that we can bring forward news and stories based on facts and provide a platform where readers can find information with integrity and a journalism premised on honesty.
Your support to The New Leam is your contribution towards giving a voice to the voiceless, going to the depths of issues that others shy away from and rigorously illuminating the flame of criticality and courage in dark times. We hope that you will come forward to support The New Leam today so that we can keep delivering quality-independent journalism to you and inform public opinion in the right direction. No matter how big or small your contribution may be, it is tremendously important. It takes only a moment, Support The New Leam now!