No, India's Union Budget is Not Meant for the Farmer
06/07/2019
Nirmala Sitharaman presented the Union Budget in the Parliament on Friday leading to the emergence of vital concerns over its inadequate focus on agrarian reform and development of the agricultural sector.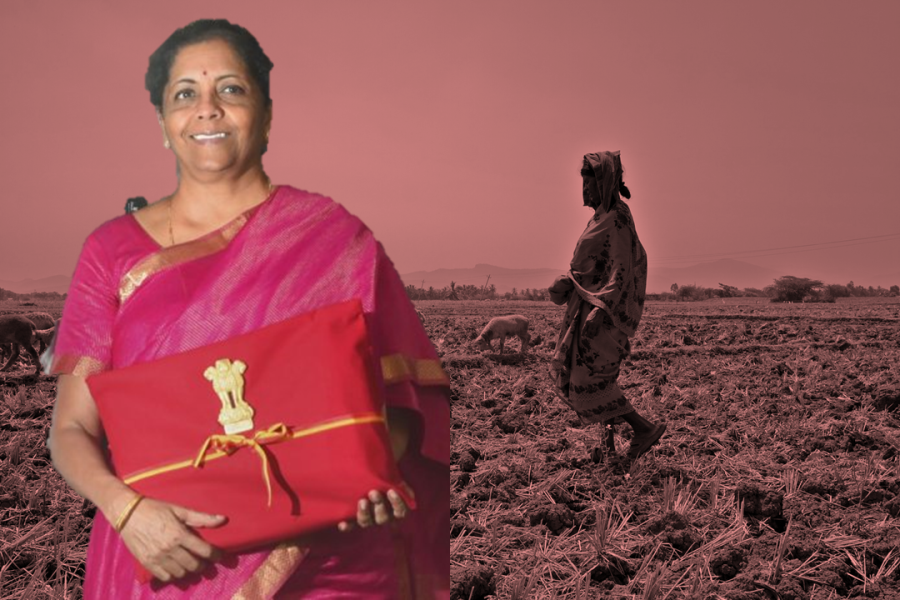 Union Minister for Finance Nirmala Sitharaman gave her first budget speech and presented the Union Budget in the Parliament on Friday. While her budget has raised a range of reactions regarding its potential for actually being able to boost India's economy and to ensure development in vital aspects of the Indian economy such as agriculture, core industries, defence, healthcare, education, foreign investment among others – one of the concerns that are being raised is related to the improper allocation of funds for the field of agriculture. One of the things that were most noticeable about the Budget was its lack of emphasis on doubling the real income of farmers by 2022. What is clear is the fact that perhaps even the present government has come to terms with the fact that this is indeed an uphill task and that given the present scenario it may not even be able to achieve half its target.
What is important to note here is that in her first budget speech, Nirmala Sitharaman may have reminded us once again about how Mahatma Gandhi asserted the development of the Indian village and how the nation's soul lies in its villages as one of his central dreams for the boosting of the Indian economy, what is however ironic is the fact that the present budget delivers little as far as Indian agriculture or its villages are concerned. Sitharaman said that for rural India or Gramin Bharat, she would focus on "Gaon, Garib and Kisan". She explained to the Parliament about the schemes that would bring about the overall development of the villages and the agricultural sector such as the PM's Sadak Yojana, enabling farmers to produce solar energy on the farms, enabling fisheries through the Matsya Sampada Yojana etc. She also asserted that her government is working for ensuring that the PM's promise of providing piped water to every home in the nation comes true by 2024.
What cannot be negated is the fact that all of the steps that Sitharaman talked about are laudable but what remains to be seen is how her government actualises them.  One of the aspects of this budget that any agriculture- agrarian enthusiast would immediately note is the fact that there is an absence of emphasis on doubling the real income of farmers by 2022. Does that imply that the present government has itself come to understand the impracticality of its own promise and therefore realises that given the prevalent conditions it may not be able to meet even half its target?
---
To retain our initiative towards free spirited and independent journalism we require your support |Pay Now
---
In order to understand what the budget really talks about agriculture it is important to take into account the expenditure that the budget allows for the Ministry of Agriculture and Farmers' Welfare that has multiplied from Rs 6,78,00 crore in 2018-2019 to Rs 1,30,485 crores for 2019-2020. This implies that there has been an increase of 92%. The biggest policy shift this year is with regards to the PM-Kisan Yojana that has seen a jump from Rs 20,000 crore to Rs 75,000 crore.  This can be viewed as an attempt to meet the election promise of direct income transfer to farmers.
---
To retain our initiative towards free spirited and independent journalism we require your support. Pay Now https://publishers.orcsnet.com/#thenewleam/paynow
---
The other schemes look stagnant if compared to the PM-Kisan Yojana and there is but a marginal change in their budget allocation. What is also worthy of noting down is the fact that there are no actual reforms or strategies planned to boost agriculture and enhance farmers' incomes.
Also the budgetary allocation for one of the most important domains of agriculture which is irrigation remains dissatisfactory.  Despite highlighting that 1,592 blocks are being overexploited across 256 Indian disctricts as far as their irrigational capacities are concerned- the budget for the PM Krishi Sinchai Yojana saw only a minor enhancement of 17% and remains insignificant at Rs 9,681 crore. Will this be sufficient to take care of India's irrigational needs?
[irp]
Moreover, the budget does not give any big push to research in agriculture, no concentration on the requirement of implementing subsidies on fertilisers, lack of funding to improve irrigational facilities- what then is the future of the millions of Indian farmers whose only livelihood is based on agriculture? The budget does not seem to ensure any vital change in the life of India's ordinary peasantry and overlooks important concerns that perpetuate India's agrarian crisis year after year.
Now that you are here...
From bottled water to oxygen cans, not even the basics are free in a market-driven world. Why then, do we take free and independent journalism for granted? We find ourselves at a time when more people like you, are reading and coming out in support of The New Leam's independent, in-depth and throughly issue based journalism than ever before. From grassroot stories and field-reports, to in-depth analysis of the pertinent political issues of our times, to news on gender, culture and educational issues- The New Leam has been dedicated to bringing out stories that speak out the soul of India and take you beyond the propaganda-filled corridors of mainstream journalism in India. We have made an important choice of keeping our journalism free of vested political interests, commercial funding and influence of partisan stakeholders, so that we can bring forward news and stories based on facts and provide a platform where readers can find information with integrity and a journalism premised on honesty.
Your support to The New Leam is your contribution towards giving a voice to the voiceless, going to the depths of issues that others shy away from and rigorously illuminating the flame of criticality and courage in dark times. We hope that you will come forward to support The New Leam today so that we can keep delivering quality-independent journalism to you and inform public opinion in the right direction. No matter how big or small your contribution may be, it is tremendously important. It takes only a moment, Support The New Leam now!