Violence during Anti-Lynching Rally in Surat Demands Immediate Attention
06/07/2019
When local outfits gathered to protest against mob lynching in different parts of India, conflict broke out between the police and the protesters.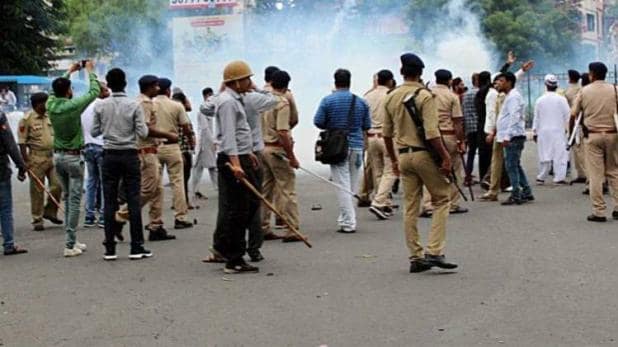 In Gujarat's Surat, several city based outfits had come together on the 5th of July to protest against growing instances of mob lynching against Muslims and Dalits in the nation. The police reacted to the mob by shelling and fired in the air in order to have the crowd dispersed.
In the process two policemen were also injured and two city buses were damaged. The Police allege that the mob went on a rampage and started pelting stones at the present police officers. The rally had gathered together in order to demonstrate their protest against the recent lynching of Tabrez Ansari of Jharkhand. They had not been allowed permission by the state authorities but decided to carry on the protest nevertheless.
The area where the conflict between the people who had gathered to take out a protest and the police that had been deployed to ensure that matters don't go out of control broke out has been cordoned off for some time.  It is also to be noted that Section 144 (that prohibits more than four people from assembling at a place)has been imposed and the state has deployed extra police personnel in the area. The police have ensured that while the situation might still be tense it is nevertheless under control.
---
To retain our initiative towards free spirited and independent journalism we require your support |Pay Now
---
[irp]
The rally was taken out by concerned Muslim citizens and other city based outfits who wished to generate awareness and urge the government to do something about the increasing cases of mob lynching against the minorities. The recent case of a mob lynching Tabrez Ansari( Tabrez was an alleged bike thief from Jharkhand who was beaten up by a mob and died in police custody succumbing to injuries) was one of the central issues raised by the rally. The politicization of his death like all other cases of mob lynching across the last couple of years has continued to take place throughout the nation.
The rally shows people holding a banner reading 'Versatile Minority Forum, President: Advocate Babu Pathan'.  It is to be noted that Advocate Babu Pathan is also the Vice President of the Surat City Congress Committee.  Protests that expressed Tabrez Ansari's death took place in several other parts of the nation as well such as in Meerut, Pune and Agra.
The protests in Surat however turned quite violent as the protesters started pelting stones after being denied to take their rally forward and the police began shelling and air firing to control the mob.  The crowd was also lathi charged as they alleged that the group had not taken due permissions to take out the protest.
In a society that is civilized even one incident of lynching should be enough to ignite societal consciousness against the growing intolerance for the minority community. Ironically, in the last couple of years India has seen not one but a spate of them off late.  Those who have been pleading for an anti-lynching law say that if such a law is brought to practice it will help address the void in India's criminal jurisprudence. We do need to enforce a law against lynching and create an environment where all citizens irrespective of religious affiliations feel safe.
Now that you are here...
From bottled water to oxygen cans, not even the basics are free in a market-driven world. Why then, do we take free and independent journalism for granted? We find ourselves at a time when more people like you, are reading and coming out in support of The New Leam's independent, in-depth and throughly issue based journalism than ever before. From grassroot stories and field-reports, to in-depth analysis of the pertinent political issues of our times, to news on gender, culture and educational issues- The New Leam has been dedicated to bringing out stories that speak out the soul of India and take you beyond the propaganda-filled corridors of mainstream journalism in India. We have made an important choice of keeping our journalism free of vested political interests, commercial funding and influence of partisan stakeholders, so that we can bring forward news and stories based on facts and provide a platform where readers can find information with integrity and a journalism premised on honesty.
Your support to The New Leam is your contribution towards giving a voice to the voiceless, going to the depths of issues that others shy away from and rigorously illuminating the flame of criticality and courage in dark times. We hope that you will come forward to support The New Leam today so that we can keep delivering quality-independent journalism to you and inform public opinion in the right direction. No matter how big or small your contribution may be, it is tremendously important. It takes only a moment, Support The New Leam now!