Livelihood Protection and Environmental Vigilantism in the Amazon Rainforest
16/08/2019
Fighting against climate change and advocating the rights of indigenous communities in Brazilian rain-forests are central to a worldwide struggle for justice.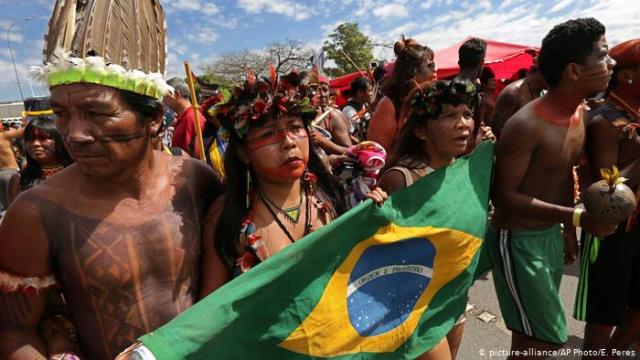 This year has been extremely tragic from two related viewpoints for Brazil-the destruction of ecologically crucial Amazon forests has accelerated greatly and the rights of the indigenous people living here have been trampled heavily. This of course is related to the election of far-right President Jair Bolsonaro who has openly expressed his contempt for the critical environmental task of protecting Amazon rainforests as well as the rights of indigenous people living in these areas, while at the same time voicing strong support for the powerful agribusiness and mining interests who have a greedy eye on the resource base of the Amazon region.
The protection of Amazon rainforests is crucial not just for indigenous people and for Brazil but for protecting life on earth. These forests are a vast store of carbon and if with deforestation this is released in the atmosphere then this will be a huge blow to the already faltering efforts to check climate change at a global level. It is keeping this in view that a conservation fund has been set up for these forests and other steps have been taken in the past.
It is equally important to realise that the livelihoods and cultures of indigenous people need to be protected. While this is important in itself and to correct historic injustices as well, this become even more important if this is linked also to the ecologically crucial task of protecting rainforests. In fact, these two important objectives are closely related and can be integrated even better if policies conducive to such integration are followed.
---
To retain our initiative towards free spirited and independent journalism we require your support |Pay Now
---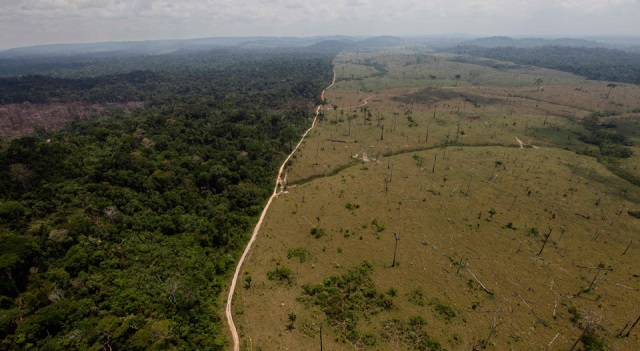 Unfortunately exactly the reverse has happened in recent months following the election of Jair Bolsonaro as President of Brazil. The authorities have turned away their eyes as commercial interests have been encroaching on rainforests on a much larger scale than before, fully aware that now there is very little chance of strong action being taken against them. Here it is important to note that beef exporting companies have been very keen to set up huge ranches in this area after clearing and burning existing forests. In addition there are the big mining interests. When pitched against the might of these powerful and highly resourceful interests, who now have strong support at the highest level of government, the struggling small communities of indigenous people may not have  much of a chance  unless they have the support of a strong international campaign.
Some days back the body of the head of the Waiapi tribe was found in a river. He is widely suspected to have been murdered. The United High Commissioner for Human Rights Michelle Bachelel said that while this is very tragic in itself , " it is also a disturbing symptom of the growing problem of encroachment on indigenous land." Here it may be added that the Waiapi land is known for its rich mineral resources.
Preliminary findings based on satellite images indicate that there has been a big increase in deforestation in just a few months following the political change at the top in Brazil. In 2018 deforestation was spread over 3183 square kms. In the entire year but this year deforestation spread over 3700 sq. kms has been reported in less than seven months. The statistics are particularly glaring for the latest month of July 2019.While deforestation spread of 457 kms was reported in July 2017, deforestation of 1260 sq. kms was reported in just the first 22 days of July.
These are massive figures and it is frightening to imagine what the situation will be once the big meat and mining companies get their massive bites on the ecologically most critical green cover of the world. As scary as the initial data quoted above looks, the shape of things to come is nothing less than a gruesome horror-story.
After all it is a fact that the newly elected President has been a very strong supporter of the big agribusiness and mining interests who aspire to have a dominating presence in this ecologically sensitive area where they are least needed. The President has also received well-deserved flak for his contemptuous remarks about indigenous people.
So will these big business interests now have a free and fast spread in the Amazon forests while the indigenous people are pushed aside. No, the indigenous people have said loud and clear and they have come out on roads and streets to declare their determination to protect their rights. But they are up against terrible odds and they need all the goodwill and support of justice-loving people in Brazil and in the entire world to protect their traditional home and in the process also make a great contribution to protecting life on earth by checking climate change.
Bharat Dogra is the Coordinator of Save the Earth Now Campaign. His new books are 'Protecting Earth for Children' and 'Earth without Borders.'
Now that you are here...
From bottled water to oxygen cans, not even the basics are free in a market-driven world. Why then, do we take free and independent journalism for granted? We find ourselves at a time when more people like you, are reading and coming out in support of The New Leam's independent, in-depth and throughly issue based journalism than ever before. From grassroot stories and field-reports, to in-depth analysis of the pertinent political issues of our times, to news on gender, culture and educational issues- The New Leam has been dedicated to bringing out stories that speak out the soul of India and take you beyond the propaganda-filled corridors of mainstream journalism in India. We have made an important choice of keeping our journalism free of vested political interests, commercial funding and influence of partisan stakeholders, so that we can bring forward news and stories based on facts and provide a platform where readers can find information with integrity and a journalism premised on honesty.
Your support to The New Leam is your contribution towards giving a voice to the voiceless, going to the depths of issues that others shy away from and rigorously illuminating the flame of criticality and courage in dark times. We hope that you will come forward to support The New Leam today so that we can keep delivering quality-independent journalism to you and inform public opinion in the right direction. No matter how big or small your contribution may be, it is tremendously important. It takes only a moment, Support The New Leam now!