PM Narendra Modi Launches 'Fit India Movement'
29/08/2019
While the nation celebrates National Sports Day marking Major Dhyan Chand's birth anniversary, PM Narendra Modi launches Fit India Movement at Indira Gandhi Stadium in New Delhi.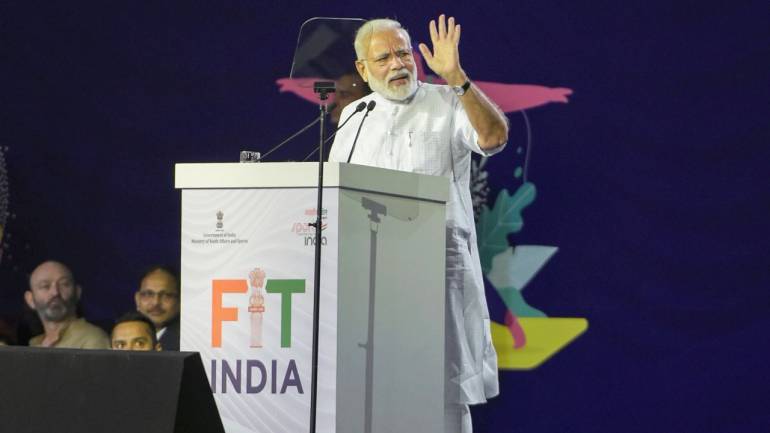 On Thursday, Prime Minister Narendra Modi launched a nation-wide campaign named "Fit India Movement" commemorating the National Sports Day, which is been celebrated every year in memory of India's greatest hockey player Major Dhyan Chand. The launch of the movement comes in the light of the increasing incidences of ailments in the country, affecting more and more young people in the country.
"Today, many lifestyle diseases like diabetes, hypertension are increasing in India. Look around you, you will find many people suffering from them. Earlier we used to hear that the risk of heart attack increases after the age of 50-60, now the youth of 35-40 years are having heart attack," PM Modi said in today's speech.
"There are diseases that can be overcome by making small changes in your lifestyle. The name to inspire the country for these changes is #FitIndiaMovement," he added.
---
To retain our initiative towards free spirited and independent journalism we require your support |Pay Now
---
Paying his tributes to the hockey legend, he also emphasised upon the significance and role of sports in achieving fitness and a healthy body. Also, reaching out to the youngsters, he added, "The relationship of success and fitness is also interlinked. Take any field today, look at your icons, see their success stories, whether they are in sports, films, business, most of them are fit. This is not just a coincidence. If you read about their lifestyle, you will find that one such thing is common in every such person. Common character of successful people is their focus on fitness."
Finally, talking about the future of the movement, PM Modi, stressed on the role and active support of the people in keeping the movement going as well as making it reach its objective of making India healthy and fit. "Even though the government has began the Fit India Movement, all of you have to lead it The people of the country will carry forward this campaign and will reach the height of success. I can say from my personal experiences that there is Investment Zero in it, but the returns are unlimited,'' he said.
To look into its working and advise on the campaign, the government has formed a committee comprising government officials, members of Indian Olympic Association (IOA), national sports federations, private bodies and fitness promoters. The 28-member committee, which will be under the chairmanship of sports minister Kiren Rijiju, includes 12 members from the government, including secretaries of Sports, Secondary Education, Ayush, Youth Affairs among others.
Now that you are here...
From bottled water to oxygen cans, not even the basics are free in a market-driven world. Why then, do we take free and independent journalism for granted? We find ourselves at a time when more people like you, are reading and coming out in support of The New Leam's independent, in-depth and throughly issue based journalism than ever before. From grassroot stories and field-reports, to in-depth analysis of the pertinent political issues of our times, to news on gender, culture and educational issues- The New Leam has been dedicated to bringing out stories that speak out the soul of India and take you beyond the propaganda-filled corridors of mainstream journalism in India. We have made an important choice of keeping our journalism free of vested political interests, commercial funding and influence of partisan stakeholders, so that we can bring forward news and stories based on facts and provide a platform where readers can find information with integrity and a journalism premised on honesty.
Your support to The New Leam is your contribution towards giving a voice to the voiceless, going to the depths of issues that others shy away from and rigorously illuminating the flame of criticality and courage in dark times. We hope that you will come forward to support The New Leam today so that we can keep delivering quality-independent journalism to you and inform public opinion in the right direction. No matter how big or small your contribution may be, it is tremendously important. It takes only a moment, Support The New Leam now!