Indian Auto Industry Crumbles Shakes up the Economy
10/09/2019
Recent data trends of the automobile industry paint a distressing situation, impacting the job market in the Indian economy.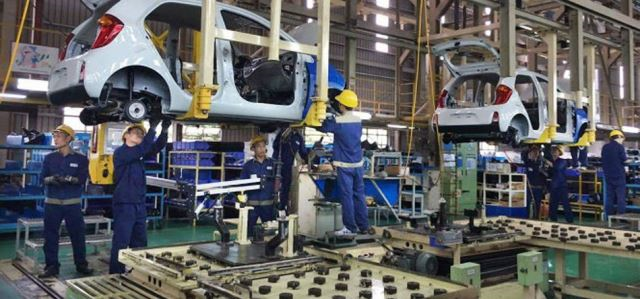 According to a data released by an apex body representing the industry, Society of Indian Automobile Manufacturers (SIAM), the Indian auto sector is facing a crisis not seen in the past two decades. Around 2.30 lakh auto sector jobs have been lost while the sale of passenger cars have fallen 35 per cent in July 2019 as compared to the same month last year, the data showed.
The SIAM data underscore the severe crisis the Indian auto sector has found itself in. Industry leaders warns of massive job cuts as manufacturers look to halt production in light of the slowdown.
The slump in the Rs 8.3 lakh crore automotive industry, which employs around 32 million people (directly and indirectly), is evident in the falling quarterly sales numbers and the closure of nearly 300 dealerships across India.
---
To retain our initiative towards free spirited and independent journalism we require your support |Pay Now
---
Overall, the auto sector has witnessed an 18 per cent dip in sales in the month of July 2019. Sales of commercial vehicles also declined 25 per cent while the sale of two wheelers reached 16 per cent lower than July last year.
The growth rates for both private and commercial vehicle sales have come under red, the former falling since the second quarter of 2018-19 and the latter contracting since the third quarter of 2017-18.
And from the data for June 2019, released by SIAM, it's clear that the problem continues- vehicle sales contracted by about 22 per cent year-on-year in June, falling from 1.8 lakh units to 1.4 lakh units, with two-wheeler sales falling almost 12 per cent in that time, from 18.7 lakh to 16.5 lakh units.
The director general of SIAM, Vishnu Mathur has called it the worst slump witnessed by the auto sector in the past 19 years. The previous such crisis was seen in December 2000, he said while talking to reporters in New Delhi. The auto industry had a positive meeting with Union Finance Minister Nirmala Sitharaman recently, and the sector is hoping that a revival package will come soon, he also added.
According to experts, data from the SIAM illustrates how the slowdown has impacted every sector of the industry.
The entire automotive ecosystem-from original equipment manufacturers (OEMs, industry parlance for car manufacturers) to component suppliers to dealerships and after market service providers has become saddled with idle production capacity and unsold inventories. And since this industry accounts for 22-25 per cent of India's manufacturing GDP, the slowdown threatens to destabilise the country's already-tottering economy.
Maruti Suzuki, the country's largest passenger vehicle manufacturer, recently reported sharp back-to-back falls in net profit from the fourth quarter of 2018-19 onward. The company sold 4.02 lakh units in the April-June quarter this year, down 17.9 per cent from a year ago.
Its chairman, R.C. Bhargava, recently told INDIA TODAY: "The magnitude of the slowdown is apparent from the figures. There are no clear signs of a revival, and as a result, capacity is lying idle. The prime minister's vision of making India a manufacturing hub by 2022 cannot be achieved without the auto sector."
Analysts argue that at the centre of the auto sector's downturn is low demand caused by a lack of credit for car buyers and uncertainty due to upcoming regulatory changes. That, coupled by a lack of financing has spelt doom for the Indian auto industry. However, many are hopeful and seek a quick government intervention while calling for change of tack by manufacturers to adapt themselves to the new policies. Nevertheless, unless the economy rebounds, the crisis is likely to continue.
Now that you are here...
From bottled water to oxygen cans, not even the basics are free in a market-driven world. Why then, do we take free and independent journalism for granted? We find ourselves at a time when more people like you, are reading and coming out in support of The New Leam's independent, in-depth and throughly issue based journalism than ever before. From grassroot stories and field-reports, to in-depth analysis of the pertinent political issues of our times, to news on gender, culture and educational issues- The New Leam has been dedicated to bringing out stories that speak out the soul of India and take you beyond the propaganda-filled corridors of mainstream journalism in India. We have made an important choice of keeping our journalism free of vested political interests, commercial funding and influence of partisan stakeholders, so that we can bring forward news and stories based on facts and provide a platform where readers can find information with integrity and a journalism premised on honesty.
Your support to The New Leam is your contribution towards giving a voice to the voiceless, going to the depths of issues that others shy away from and rigorously illuminating the flame of criticality and courage in dark times. We hope that you will come forward to support The New Leam today so that we can keep delivering quality-independent journalism to you and inform public opinion in the right direction. No matter how big or small your contribution may be, it is tremendously important. It takes only a moment, Support The New Leam now!