Book Lover's Paradise: Daryaganj Sunday Book Market's Future is Bleak
15/10/2019
The Delhi High Court ordered closure of the capital's famous book market citing traffic impediments in July, vendors continue to fight for their rights in despair.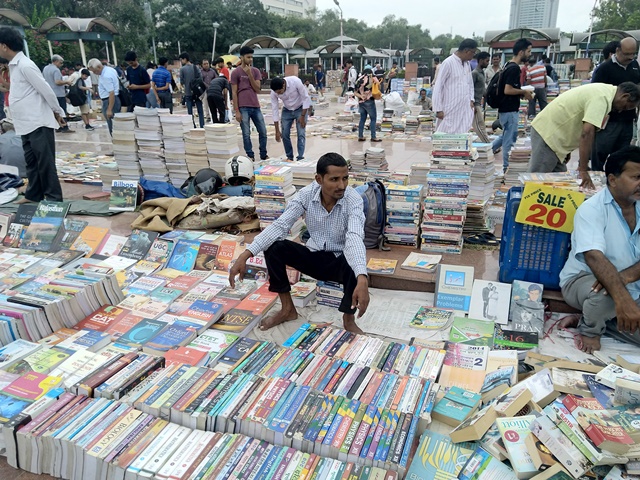 September 29, Sunday. It was only the third week at the new site but the vendors had come again. With hopes and expectation they had come, once again, to achieve a profitable income. It had already been more than a month since the market was shut down and many losses incurred. I tried to strike a conversation with some but their faces were telling their story even before they spoke any words.
It was 8:30 AM and the market was already in function. I decided to sit and just observe. Customers, old or young, had already started coming but some vendors still struggling to settle all their stuff. The morning had clear sky and the sun was rising up. I was wondering if the vendors were even concerned about the sun when it reaches over head and pour down its sweaty heat in the hours to come. But of course it was their last worry for the day as they were only focussed on improving their sales.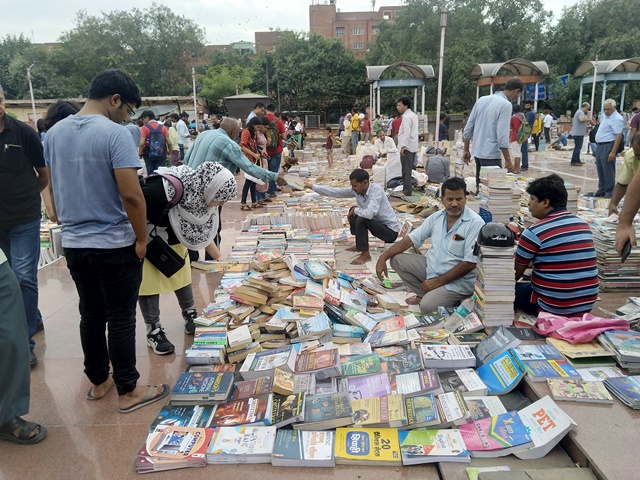 ---
To retain our initiative towards free spirited and independent journalism we require your support |Pay Now
---
The new site of the decades old market is now located on the other side of the Asaf Ali Road, opposite to Delhi Stock Exchange building, at NDMC's Mahila Haat. Till July, the Sunday book market was being held along the side of the road between Delite Cinema and Golcha Cinema in Daryaganj.
But late in July, the Delhi High Court ordered the market to be shut down. The court's order had come after Delhi traffic police submitted its report and told the court that Netaji Subhash Chandra Marg was a no squatting and no hawking zone.
According to reports, the order came on an account submitted by the Delhi Traffic Police to the high court in which traffic authorities had argued that the book market was adding to congestion in a high-volume traffic zone and forcing pedestrians off the side walk into a bedlam of cars and rickshaws.
Since then, vendors have not been allowed to put their stalls on the roadside. And confusion and chaos continue to persist despite the court order's for its relocations to another site. Vendors Welfare Association which is looking into the matter argue that the places being suggested by the authorities does not guarantee a good footfall of customers as many customers will not be able to adjust to new unknown routes.  This will further lead to loss in vendors' income and there fore many vendors are protesting against the order, still organizing their stalls at the road side where they used to.
Vendors also argue that there has been a violation of the Street Vendors (Protection of Livelihood and Regulation of Street Vending) Act, 2014.
The Act allows natural markets where street vendors have conducted business for over fifty years to be declared heritage markets, with the stipulation that the vendors in such markets shall not be relocated without strict adherence to an official procedure. This procedure includes 30 days' notice, which the vendors claim that they didn't receive.
They argue NDMC notified them merely days before the Sunday market was to hit the streets — an action that vendors say directly violates the central government's Street Vendors (Protection of Livelihood and Regulation of Street Vending) Act, 2014.
Further, they argue that NDMC's clampdown is technically illegal as they have merit to fight for market's 'heritage status'.
One member of the association on the pretext of anonymity said, central government itself have given this direction under their Deen Dayal Antyodaya Yojana or DAY that no vendors should get evicted without proper justification specially from markets which are more than 50 years old.  Ours market is not any market, it is a heritage market. We are only fighting for our rights and we will not leave until we get proper written documents justifying the move."
"Our demand is that eviction should be stopped first and there should be a survey on the said problems. Only then we will be convinced that they are giving us right reasons for the eviction," he further added.
The space at the Mahila Haat has been divided into slots with numbers written on them. For each slot the vendors use they are charged Rs. 185 weekly. Some vendors who have been selling books from the initial days of the market had taken slots up to 7-8.
In the right hand side corner, from the entrance, one such vendor, Anand, was busy instructing his helpers to put the books in a right way. His stall was bigger than most others vendors near by. So I asked him how many slots did he use for that, "I am using around 6 slots at the current moment but I'm also using the fence walls for extra display."
Anand has been in the business for more than 25 years and before that it was his father who had handled the work. "I m not worried about the space here but I'm sceptical about the way things are taking place. Authorities are giving only verbal directions to us and I fear one day we might be told to leave the Mahila Haat space as well."
Prem Kumar was another such vendor who had taken around 8 slots on the other side opposite to Anand's stall. He told me that he had started his stall in the market in 1972 when it was organized near Red Fort.  "There were only 15-20 of us there, then the market got shifted to Daryaganj in 1978," he said.
But unlike Anand, he seemed satisfied with the new place.
"Customers will come..I'm not worried, its a new place…in a few month everything will be normal again," he replied when I asked him if he wished to go back to the pavements.
"I don't wish to go back..this place is better and clean and there's no unwanted crowd here…
I'm one of the oldest vendor here, i have seen the market grow to what it is today, now my son takes care of the business. And we are okay with the new space,"he further added.
Vinita Bansal, the only female vendor I noticed was dealing with her customer when I approached her to talk about her experience at the Haat.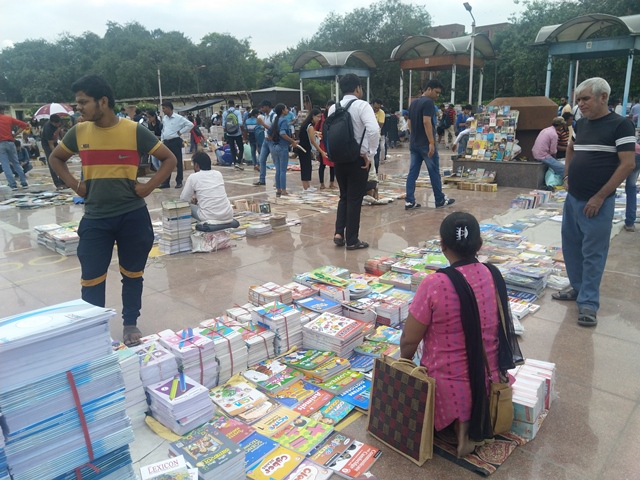 "I have much bigger shop than this stall. My father-in law  has been doing this work from the beginning when there used to be only 4-5 vendors in the market. Today I came for the first day," she said.
"I lost my husband 4 months back and since order of shutting down of the market came, we were anxious our business. I did not feel like sitting at home so i joined with father-in law here," she further added.
On further asking if she was happy with the new site and her stall, she said, "I have come only today but my father-in law who is in his 80's is not satisfied here. He is determined to go back."
"Its been 3 hours but I haven't even been able to earn an amount equivalent to the rent I have paid."
According to the records, the Sunday book market was established around 1964, today it stretches almost for 2 kilometers on the pavements.
The Daryaganj Sunday Book Market, alternatively and more precisely known as Daryaganj Sunday Patri Kitab Bazaar, had first appeared behind Jama Masjid, near Kasturba Gandhi Hospital. After several minor relocations around Jama Masjid and the Red Fort, the book bazaar eventually acquired an L-shaped structure on the pavements of Netaji Subhash Marg and Asaf Ali Road.
The number of vendors also has risen to more than 250 today.
Ram Singh who has a shop in Daryaganj was running from one stall to another in haste when I noticed him. I asked him why was he moving like that.
"I deal in medical books. I cant put my stall here. I'm old how will I bring all my stuff here..therefore I'm roaming around to find customers who needs medical books," he said.
On asking if he has put his stall at the Haat yet, he added, "I haven't put my stall here till now..I don't want to do it…where will I run if it suddenly rains? I have been in this business for 35 years now, on 3 august came the notification that market wont function but still many vendors are continuing from the former place. We haven't been shown any written proof so why should we move from there…customers come there on the pavements…here there's no business so I wont bring my stall here."
On more interaction, vendors shared that this wasn't the first time that Daryaganj market was being the target of convenient gentrification.
In January last year, the Sunday book market was sacrificed for up to five weeks as "a part of the ongoing beautification drive in the run-up to the three-day Association of Southeast Asian Nations (ASEAN) Summit to be held in Delhi," the Hindustan Times had reported.
The members of the association seems to be clear on their stand, the authorities on the other hand have not been able to fully convince the vendors and hence the confusion continues to remain. With festival season around the corner, vendors also fear that their market will be shut down further. If this continues, they further argue, it will take a heavy toll on many vendors' income who depends on the market. They, now, only hope to receive official documents assuring them of a permanent settlement of the issue so that they can go back to their work again.
Now that you are here...
From bottled water to oxygen cans, not even the basics are free in a market-driven world. Why then, do we take free and independent journalism for granted? We find ourselves at a time when more people like you, are reading and coming out in support of The New Leam's independent, in-depth and throughly issue based journalism than ever before. From grassroot stories and field-reports, to in-depth analysis of the pertinent political issues of our times, to news on gender, culture and educational issues- The New Leam has been dedicated to bringing out stories that speak out the soul of India and take you beyond the propaganda-filled corridors of mainstream journalism in India. We have made an important choice of keeping our journalism free of vested political interests, commercial funding and influence of partisan stakeholders, so that we can bring forward news and stories based on facts and provide a platform where readers can find information with integrity and a journalism premised on honesty.
Your support to The New Leam is your contribution towards giving a voice to the voiceless, going to the depths of issues that others shy away from and rigorously illuminating the flame of criticality and courage in dark times. We hope that you will come forward to support The New Leam today so that we can keep delivering quality-independent journalism to you and inform public opinion in the right direction. No matter how big or small your contribution may be, it is tremendously important. It takes only a moment, Support The New Leam now!