Campus Protest/Students Protest Unprecedented Fee Hike in Uttarakhand Ayurvedic University
19/10/2019
Rapid institutional fee hikes in recent months have brought about a series of protests by students across the nation.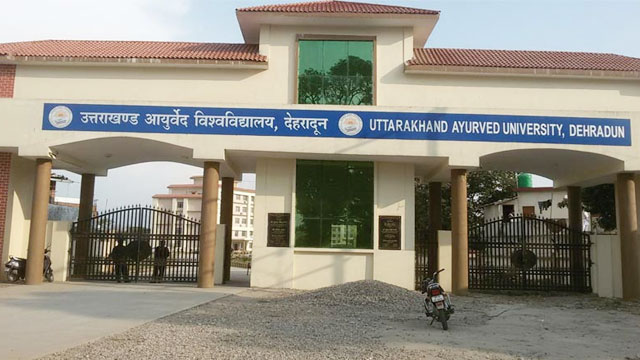 The past few months have seen many student protests taking place across the country over unprecedented and unjustified fee hikes in many educational institutions. In October first week, a meeting was called by Uttarakhand Ayurveda University (UAU) to resolve the tussle between administrations of state Ayurveda colleges and its students over alleged fee hike. But the meeting didn't result in any fruitful conclusion as the protesting students got miffed after finding out that officials of only five colleges came to attend the meeting.
One of the protesting students, Lalit Tiwari, who had approached high court regarding the fee hike allegedly said that private Ayurvedic colleges, owned by various BJP ministers including AYUSH minister Harak Singh Rawat, have hiked the fees of Bachelor courses by three to four times.
He also said that the fee was Rs 80,000 per year till 2014-15 but it was increased to Rs 2.15 lakh in 2015-16 without following the fee fixation committee rules. Hundreds of students approached the court regarding this. Last year, HC had ordered college authorities to refund the hiked fee but not a single college followed the directive. 
---
To retain our initiative towards free spirited and independent journalism we require your support |Pay Now
---
The protesting students argue that the HC even issued a contempt notice to Ayurvedic colleges for not revoking the old fee structure and not letting the students appear in exams, but the colleges didn't comply. 
Now the students are staging protests for not receiving the refund of additional fees collected from them, even after the Uttarakhand High court's directive on the same.
The protesting students demand the refund of extra fees charged by the medical colleges. The students had also threatened a class boycott alleging that the Uttarakhand Ayurveda University was putting pressure on them to pay this year's academic fees as per the previous structure for the Ayurveda course (Rs 2.15 lakh per year), which they said was strictly in violation of the High Court order. 
The fees for the Ayurveda course at the private medical colleges had been increasing from last few years. However, after the matter went to the court, the state government and the Ayurvedic University were directed to not charge extra fees and the extra amount collected over the few years to be refunded back to the students pursuing Ayurveda course from the private medical colleges.In a similar incident, a recent fee hike in MTech courses at IITs had lead aspiring students to protest and demand its rollback. IIT aspirants, demanding rollback, staged a protest at Jantar Mantar against the 900 percent hike in fees for MTech courses announced by the council of IITs.
In their list of demands, which also trended on Twitter, the aspirants sought restarting the stipend for students, stressing that BE/BTech were costly affairs and most students complete their graduation on education loans which were a burden on them and their family.The fee hike, students contended, compelled most students to take more loans, thus discouraging students to choose MTech in IITs. 
The fee hike, among other decisions, was taken by the Council of IITs in a meeting chaired by Human Resource Development Minister Ramesh Pokhriyal Nishank. 
Country Wide Institutional Fee Hike 
In July 2019, A massive fee hike in TISS Hyderabad had forced students to drop out of the courses. The shifting of the management of hostel facilities to private service providers had led to the fee being hiked from Rs 15,000 to Rs 54,000 per semester. This left many students in conundrum. TISS, which recently opened its Hyderabad campus has been operating from the Telangana State Institute of Panchayat Raj and Rural Development (TSIPARD) Campus in Rajendranagar. The protest began on July 8 when several students went on hunger strike. The students demanded a roll-back of fee hike as well as to set up a proper mechanism for fee payment for the post-matric scholarship (PMS) holders. The scholarship is granted by the Union government to students belonging to the Scheduled Caste (SC) category and has a family income less than Rs 2.5 lakh per annum.
Jawaharlal Nehru University, in another instance, also left many foreign students in shock, when it hiked the fees by 100 per cent. Under JNU's new fee policy for International students, the fee saw a 100 per cent rise for the in-absentia category. Due to this, almost 40 Tibetan refugee students residing in India who cleared the Jawaharlal Nehru University Entrance Examination (JNUEE) this year could not take admission because of the steep fee hike. 
Under JNU's new fee policy for International students, along with a 100 per cent rise for the in-absentia category, the fees saw a striking 1400 per cent (courses in Science Disciplines) and 900 per cent (courses in Humanities and Social Science) rise for foreign students.In Delhi University as well many colleges' recent fee hike lead students to stage hunger strike. Many colleges, including Ramjas College, St Stephen's College, Sri Venkateshwara College and SGTB Khalsa College, revised their fee structures from the current academic year, citing shortage of funds.
The colleges introduced a hike ranging from Rs 2,000 to Rs 8,000. In Gargi College, the fee or BA (Hons) Business Economics increased to Rs 41,220 from the previous amount of Rs 26,875. As per the guidelines of the University Grants Commission (UGC) draft notification 2017, the central universities and colleges were asked to follow the 70:30 funding formula, where 30% was the internal revenues of universities and colleges. 
The UGC guidelines, however, have been criticised since the inception and many students and teachers' associations have been calling it as a tool for privatizing educational institutions in the country. 
Teachers' associations, students' organisations and activists have been fighting against it calling it as a push towards increasing privatisation, commercialisation and 'saffronisation' of higher education. They are protesting against the ruling dispensation's policies regarding graded autonomy, autonomous colleges, 70:30 formula and HEFA (Higher Education Funding Agency). Many argue that the dire situation of higher education has been made worse by the changes in the 200- point roster, rampant Ad-hocism, delay in pensions and promotions, lack of representation from SC/ST/OBC communities and other marginalised sections of society. Viewed in this context, the recent trend of fee hike across the country is only turning out to be a big blow to the higher education system in the country.
Now that you are here...
From bottled water to oxygen cans, not even the basics are free in a market-driven world. Why then, do we take free and independent journalism for granted? We find ourselves at a time when more people like you, are reading and coming out in support of The New Leam's independent, in-depth and throughly issue based journalism than ever before. From grassroot stories and field-reports, to in-depth analysis of the pertinent political issues of our times, to news on gender, culture and educational issues- The New Leam has been dedicated to bringing out stories that speak out the soul of India and take you beyond the propaganda-filled corridors of mainstream journalism in India. We have made an important choice of keeping our journalism free of vested political interests, commercial funding and influence of partisan stakeholders, so that we can bring forward news and stories based on facts and provide a platform where readers can find information with integrity and a journalism premised on honesty.
Your support to The New Leam is your contribution towards giving a voice to the voiceless, going to the depths of issues that others shy away from and rigorously illuminating the flame of criticality and courage in dark times. We hope that you will come forward to support The New Leam today so that we can keep delivering quality-independent journalism to you and inform public opinion in the right direction. No matter how big or small your contribution may be, it is tremendously important. It takes only a moment, Support The New Leam now!