"Lynching" is Used to Defame the Nation, Says RSS Chief Mohan Bhagwat
09/10/2019
RSS Chief Mohan Bhagwat asserts that Indians believe in brotherhood and not "lynching."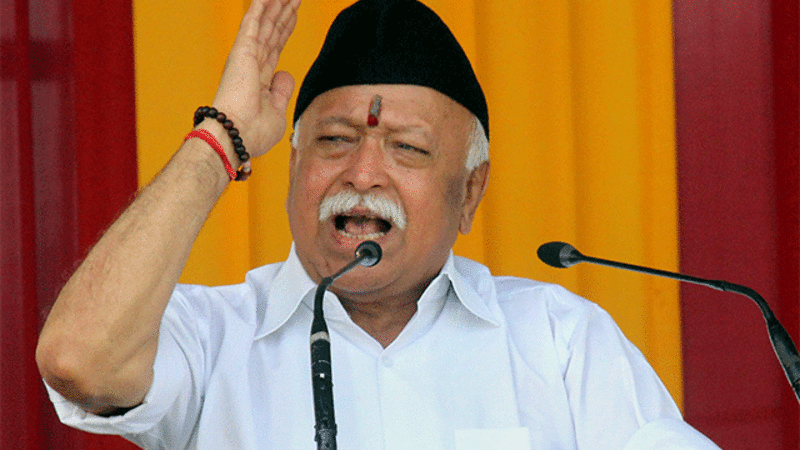 The Chief of Rashtriya Swayam Sevak Sangh(RSS) Mohan Bhagwat has recently issued a statement wherein he said that the term "lynching" is a western construct and it was being used in the Indian context to defame the country on an international podium.
The RSS chief made the statement on Tuesday while addressing the Vijayadashami function in Nagpur, Maharashtra. He asserted that the word "lynching" comes from western religious contexts and should not be applied to the Indian context because it defames the country's image on the international level.
He also congratulated PM Narendra Modi and Union Minister Amit Shah for introducing the abrogation of Article 370 in Jammu and Kashmir and asserted that some vested interests were not willing to see the country go on the path of development.
---
To retain our initiative towards free spirited and independent journalism we require your support |Pay Now
---
He commented on the word "lynching" by saying that the word originated in a different religious text and should not be applied to the Indian context in order to defame it. He pointed out that Indians believed in brotherhood and harmony and that lynching was something alien to the Indian context. He expressed pleasure over the security and the armed forces who he said were making our borders safer but expressed displeasure at those who due to their 'vested' interests didn't want to see a strong and secular India.  He claimed that the government has taken all the steps to revive the economy and that there was nothing to feel afraid about.
Now that you are here...
From bottled water to oxygen cans, not even the basics are free in a market-driven world. Why then, do we take free and independent journalism for granted? We find ourselves at a time when more people like you, are reading and coming out in support of The New Leam's independent, in-depth and throughly issue based journalism than ever before. From grassroot stories and field-reports, to in-depth analysis of the pertinent political issues of our times, to news on gender, culture and educational issues- The New Leam has been dedicated to bringing out stories that speak out the soul of India and take you beyond the propaganda-filled corridors of mainstream journalism in India. We have made an important choice of keeping our journalism free of vested political interests, commercial funding and influence of partisan stakeholders, so that we can bring forward news and stories based on facts and provide a platform where readers can find information with integrity and a journalism premised on honesty.
Your support to The New Leam is your contribution towards giving a voice to the voiceless, going to the depths of issues that others shy away from and rigorously illuminating the flame of criticality and courage in dark times. We hope that you will come forward to support The New Leam today so that we can keep delivering quality-independent journalism to you and inform public opinion in the right direction. No matter how big or small your contribution may be, it is tremendously important. It takes only a moment, Support The New Leam now!