Public Sector strengthening crucial for Countries to achieve Universal Healthcare: UN
30/10/2019
Evidence have been found that shows countries with a strong public sector have more successful health systems and better outcomes.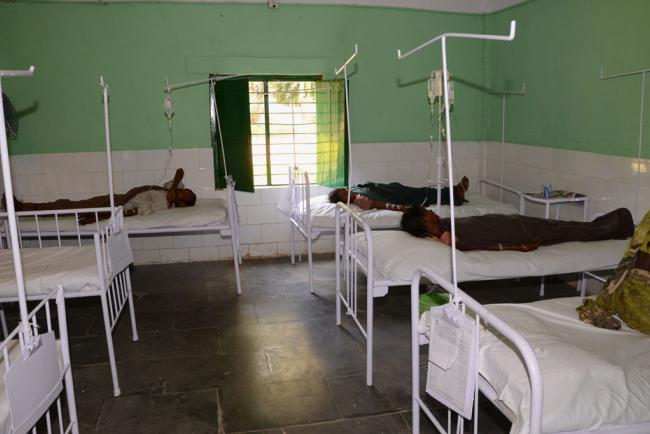 Over the last decade, the global health discourse has been dominated by the topic of Universal health coverage. Universal health coverage has, in fact, become a major goal for health reform in many countries and a priority objective of WHO.
WHO defines Universal health coverage as "ensuring that all people have access to needed health services (including prevention, promotion, treatment, rehabilitation and palliation) of sufficient quality to be effective while also ensuring that the use of these services does not expose the user the financial hardship."
UHC is firmly based on the WHO constitution of 1948 declaring health a fundamental human right and on the Health for All agenda set by the Alma Ata declaration in 1978. UHC cuts across all of the health-related Sustainable Development Goals (SDGs) and brings hope of better health and protection for the world's poorest.
---
To retain our initiative towards free spirited and independent journalism we require your support |Pay Now
---
Good health is therefore essential for sustained economic and social development and poverty reduction. But access to needed health services is crucial for maintaining and improving health.
The recent political declaration of the United Nations High Level Meeting on universal health coverage that emerged out of intensive negotiations between countries and advocacy by civil society, illustrates this global political commitment towards it.
On 23 September 2019, the United Nations General Assembly held this meeting under the theme "Universal Health Coverage: Moving Together to Build a Healthier World," aimed at accelerating progress toward universal health coverage (UHC), including financial risk protection, access to quality essential health-care services and access to safe, effective, quality and affordable essential medicines and vaccines for all.
However, Sulakshana Nandi, Co-Chair of the People's Health Movement Global, argues that the emphasis continues to be on healthcare financing instead on how provisioning of services should be organised.
In this context, she argues, universal health coverage is usually interpreted as favouring public funding for private provisioning. Relying on for-profit private sector in provisioning of health care with public funding, undermines the public health system, exacerbates health inequities and increases financial hardship. The publicly-funded health insurance schemes which are promoted as a vehicle of universal health coverage in low-and middle-income countries and other forms of private sector contracting for clinical care are prime examples of this.
She further states, the publicly-funded health insurance schemes in low-and middle-income countries, such as India and Philippines, where provision is mainly through for-profit private providers, fail to ensure equity in access and financial protection. Problems of unnecessary procedures, collusion between public and private sector providers, provider capture and funding imbalances with most funds going to private have been well documented. There is severe geographical inequity, with hardly any services available from private sector in rural and remote areas.
The evidence on publicly-funded health insurance schemes in low-and middle-income countries, therefore, is at best mixed and better examples often belong to countries with a substantial share of the public sector (for example, Brazil, Costa Rica) or the not-for-profit sector (for example, Ghana) in provisioning.
Ms. Nandi however highlights that globally there is enough evidence to show that countries with a strong public sector have more successful health systems and better outcomes. Countries such as Thailand and Sri Lanka, in which the public sector is the predominant provider, are able to progress further towards goals of universal health coverage. Unfortunately, countries like Sri Lanka are facing an onslaught on their public systems.
This raises the issue of how certain kind of heath policies get promoted for low-and middle-income countries through global institutions. Moreover, National and global policy-making faces the danger of being influenced by the health industry, with possible conflicts of interest in research and policy advocacy.
Therefore, Public sector in low-and middle-income countries continues to be hugely under-funded. She asserts that, considering that funds are scarce, instead of diverting them to private sector, it would be wise to strengthen public provisioning.
And, the public health system should be strengthened through the framework of comprehensive primary health care, to provide the whole range of preventive, promotive, curative and rehabilitative care. Availability of free health services, free generic drugs and diagnostics and human resources for health should to be improved.
Much work is needed on the social determinants of health and the structural causes of ill-health as well. Equity has to be the core driver of policy decisions if a meaningful progress towards universal health coverage has to be charted.
Lastly she states, Universal health coverage can gain much by moving away from market-based interpretations to a clear policy towards strengthening publicly-funded and publicly-provided healthcare.
Now that you are here...
From bottled water to oxygen cans, not even the basics are free in a market-driven world. Why then, do we take free and independent journalism for granted? We find ourselves at a time when more people like you, are reading and coming out in support of The New Leam's independent, in-depth and throughly issue based journalism than ever before. From grassroot stories and field-reports, to in-depth analysis of the pertinent political issues of our times, to news on gender, culture and educational issues- The New Leam has been dedicated to bringing out stories that speak out the soul of India and take you beyond the propaganda-filled corridors of mainstream journalism in India. We have made an important choice of keeping our journalism free of vested political interests, commercial funding and influence of partisan stakeholders, so that we can bring forward news and stories based on facts and provide a platform where readers can find information with integrity and a journalism premised on honesty.
Your support to The New Leam is your contribution towards giving a voice to the voiceless, going to the depths of issues that others shy away from and rigorously illuminating the flame of criticality and courage in dark times. We hope that you will come forward to support The New Leam today so that we can keep delivering quality-independent journalism to you and inform public opinion in the right direction. No matter how big or small your contribution may be, it is tremendously important. It takes only a moment, Support The New Leam now!