Wanted: An urgent political saviour for river Yamuna
26/10/2019
River Yamuna, the longest tributary of river Ganga, is dying as the prescribed environmental flow is not maintained.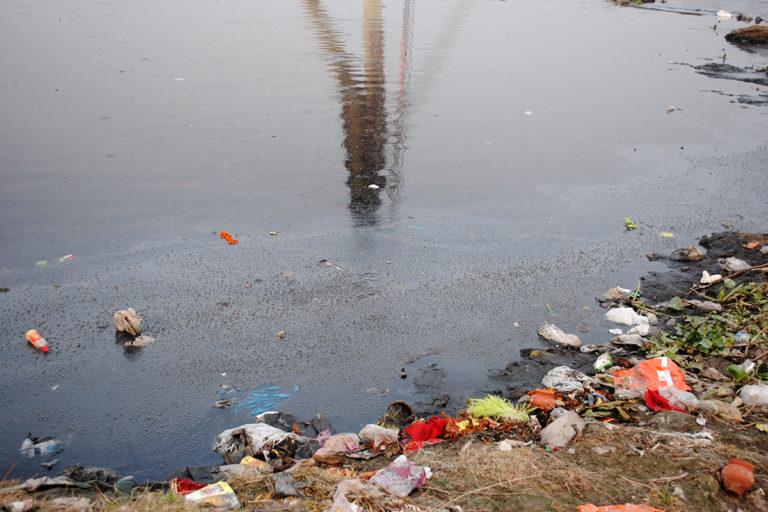 "When the rain comes down, it starts looking like a river. Otherwise, it is just like this… a drain full of dirt and filth. If you have to see it clean and flowing, come in the rainy season," rued 40-year-old Prem Kumar, who is a gardener at the plant nursery situated besides the banks of the river Yamuna in east Delhi.
This year in October, despite a heavy and delayed monsoon in the country, river Yamuna resembles a vast stagnated nullah (drain) in Delhi. Apart from the problems caused by sewage, industrial effluent and solid waste being dumped into it, Yamuna like many other rivers in India is facing an existential threat. One of the biggest reasons behind this is the deprivation of water flow in the river.
Despite court orders, the progress on the Yamuna action plan is negligible on the ground. The river continues to be a drain of sewage and chemical pollutants in the national capital despite the political rhetoric played around it.
In 2017, the National Green Tribunal (NGT) had directed that all the rivers in the country shall maintain a minimum 15 to 20 percent of the average lean season flow of that river. Despite this direction by the tribunal, this minimum flow, which is also called the environmental or e-flow, isn't being maintained by authorities in almost any of the rivers in India, including Yamuna.
---
To retain our initiative towards free spirited and independent journalism we require your support |Pay Now
---
All the water of the river Yamuna is held by dams built over it and this water is being diverted for drinking, irrigation and power generation. The first intervention in the flow of Yamuna is 200 kilometres upstream from Delhi at Dak Pathar, near Dehradun in Uttarakhand. Here at Uttarakhand-Himachal Pradesh border, almost all the water of the river Yamuna is diverted into a huge water channel known as Shakti Canal.
The water diverted in this canal is used to generate electricity by power stations and Yamuna river becomes a dry patch along the mighty canal. Except during the monsoon, when it becomes a compulsion for authorities to release some water into the river, Yamuna has hardly any flow in it, resulting in the death of the riverine ecology.
Experts feel that actual water use from any river must not exceed 50 percent of the total water flow of the river. It means that half of the water should remain in the river. This is necessary for the watercourse to deal with environmental stress but Yamuna is not spared with even the minimum flow suggested by NGT.
"Ideally entire flow is the environmental flow. But now we have so much dependence on our river systems for meeting our different water needs, there is a threshold which is now called as e-flow. That threshold has to be determined and that threshold has to be restored to the river if you truly want to rejuvenate the river. In the absence of e-flow any effort to rejuvenate river Yamuna will remain a mirage," said river expert Manoj Mishra, who is also a petitioner in the NGT in several cases related to the Yamuna river.
Yamuna under heavy pollution load
Yamuna is India's sixth-longest river and the largest tributary of river Ganga but almost all the water of this river has been sucked out for power generation, irrigation and drinking before it reaches Delhi. However, the real plight starts when the river enters the capital. It covers almost 48 kilometres from its entry into the city to its exit and most of its pollution comes in this stretch.
During the Delhi legislative assembly elections that are expected to take place early next year, the issue is once again expected to be brought up by all parties.
The three main kinds of pollution in Yamuna are sewage, industrial effluent and solid waste. Last year, in 2018, an expert monitoring committee on Yamuna appointed by the NGT reported that in the 22 kilometres stretch between Wazirabad and Okhla – which is just two percent of its total length – it receives over 75 percent of its entire pollution.
Untreated sewage is the biggest pollutant which goes into the Yamuna river. More than 40 percent of the city has no sewer connection. According to data provided by the Delhi Jal Board (DJB) to the expert monitoring committee, Delhi generates 720 million gallons of sewage per day (MGD). According to the committee, it may be an underestimation as a large number of illegal borewells have not been accounted for in this estimate.
DJB says it has increased its sewage treatment capacity from 284 MGD in 1995 to 512.4 MGD today, which means at least 30 percent sewage still remains untreated going by official data. However, experts estimate that the actual amount of untreated sewage is much more than this. Last year NGT rapped the DJB saying that there is no "meaningful progress" on the ground despite the court's order in January 2015, regarding Yamuna's rejuvenation. NGT also noted that the work for 14 sewage treatment plants (STPs) in Delhi wasn't even started.
DJB says a new sewage treatment plant will come up in Okhla by 2022 and that will be the biggest STP of India. "It will have 564 MLD sewage treatment capacity and this plant will definitely make a positive impact on Yamuna rejuvenation." Aam Aadmi Party leader Dinesh Mohania, who is also a member of the Delhi legislative assembly and vice-chairman of the DJB, told Mongabay-India.
Political blame game over Yamuna river continues
Similar to the way the cleaning of Ganga river is embroiled in politics at the national level, cleaning of river Yamuna has also been a hot topic in political discussions in and around Delhi since the past three decades. It has been a constant part of manifestos of all the major political parties of the national capital during the consecutive assembly elections. However, despite all the money and political attention, the river is yet to see a return of its glorious days when it used to flow unhindered.
The latest entrant to the national capital's politics, earlier this decade, is the Aam Aadmi Party. AAP too made similar promises when it came to power in Delhi but it failed to make any major headway in the issue.
With Delhi legislative assembly elections expected in January-February 2020, the issue is once again expected to be a promise that all political parties will make. It is more so because the way air pollution has emerged as a political issue in the last few years in the national capital, cleaning of river Yamuna would hope to get similar attention.
Whether a solution to its pollution load happens or not, river Yamuna has repeatedly seen the government in Delhi and at the centre playing a blame game.
Manoj Tiwari, member of parliament and president of the Delhi unit of Bharatiya Janata Party (BJP) – which is the main opposition party in Delhi – blames the state government led by AAP for "carelessness and indifference" on this matter. However, the BJP is in power at the centre for the last six years and hasn't done anything on this issue. Tiwari said that as the state government is not taking any "interest" in Yamuna rejuvenation the central government can't do much.
Experts believe Yamuna rejuvenation will remain a mirage until the necessary environmental flow is provided to the river.
"Yamuna is a big issue. In the forthcoming elections, we will surely highlight this issue and it will be an important part of our election manifesto. I promise when our government comes to power in Delhi, we do everything for Yamuna river." Tiwari told Mongabay.
However, Delhi chief minister Arvind Kejriwal said that his government is committed for Yamuna action plan and addressing the issue honestly.
"What is most important for Yamuna cleaning is to stop the sewage going in the river. We have already taken steps but it will still take 2-3 years and when all the under-construction STPs are complete this problem will be solved," Kejriwal said while replying to the query of Mongabay-India.
In September this year, NGT has ordered the Delhi Development Authority (DDA) to demarcate entire Yamuna floodplain and convert it into biodiversity park. NGT has also asked to complete the setting up of STP under a strict timeline.
"We have been hammering them (authorities) to comply with our recommendations and NGT has fully supported us but actually nothing is happening. The movement is only to keep us as monitoring committee more or less satisfied so that we don't go and keep reporting to NGT but our report is very clear that it is not good enough." A source closely working with expert monitoring committee told Mongabay India.
According to the Union Minister of State for Jal Shakti Rattan Lal Kataria, the Jal Shakti ministry is supplementing the efforts of the states for checking the rising level of pollution of river Yamuna by providing financial assistance to Haryana, Delhi and Uttar Pradesh in a phased manner since 1993 under the Yamuna Action Plan (YAP).
As per the official data, a total of 25 such projects across Himachal Pradesh, Haryana, Delhi, and Uttar Pradesh has been sanctioned in the past 25 years at an estimated cost of about Rs 46 billion (Rs 4,598.44 crore).
In addition, Kataria, while replying to a query in parliament, said that the government has taken several other initiatives like deploying trash skimmers at Mathura (UP) and Delhi to remove the floating trash from the river surface. "A study for assessment of environmental flows in river Yamuna (from Hathinkund to Okhla barrage) is being carried out by the National Institute of Hydrology, Rorkee. The determination and maintenance of environmental flow will inter-alia assist in the reduction in pollution level in river Yamuna. A project for regular cleaning of ghats has been sanctioned for Mathura and Prayagraj," he added.
This article is republished from  The Mongabay under a Creative Commons license. Read the original article.
Now that you are here...
From bottled water to oxygen cans, not even the basics are free in a market-driven world. Why then, do we take free and independent journalism for granted? We find ourselves at a time when more people like you, are reading and coming out in support of The New Leam's independent, in-depth and throughly issue based journalism than ever before. From grassroot stories and field-reports, to in-depth analysis of the pertinent political issues of our times, to news on gender, culture and educational issues- The New Leam has been dedicated to bringing out stories that speak out the soul of India and take you beyond the propaganda-filled corridors of mainstream journalism in India. We have made an important choice of keeping our journalism free of vested political interests, commercial funding and influence of partisan stakeholders, so that we can bring forward news and stories based on facts and provide a platform where readers can find information with integrity and a journalism premised on honesty.
Your support to The New Leam is your contribution towards giving a voice to the voiceless, going to the depths of issues that others shy away from and rigorously illuminating the flame of criticality and courage in dark times. We hope that you will come forward to support The New Leam today so that we can keep delivering quality-independent journalism to you and inform public opinion in the right direction. No matter how big or small your contribution may be, it is tremendously important. It takes only a moment, Support The New Leam now!