Waking Up University Administrations that are Fast Asleep: Reviving a New India
25/11/2019
University campuses have seen widespread student protests, but when will the administrators acknowledge the importance of public universities?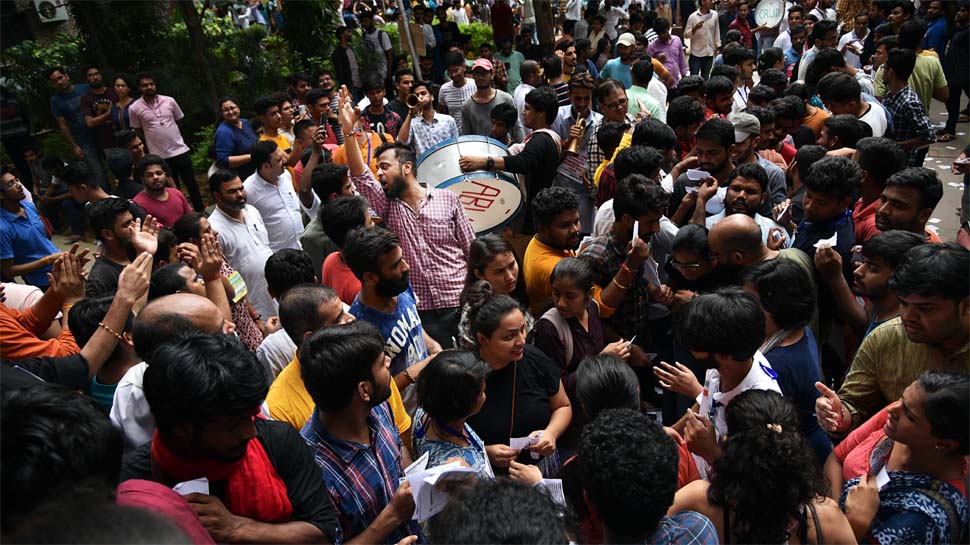 What we read, speak, write and reflect becomes very important in our everyday lives. Many people often contradict what they do in everyday public life and private life, which is for many reasons subjective. This write up is broadly based upon how university spaces are becoming 'problematic' for the students when students are the main elements to define the same. If it was Jamia Millia Islamia in the news last month, this month is that of Jawaharlal Nehru University. While recollecting the protest in Jamia, I was surprised to see contradicting activities taking place on the same day. There was a seminar on Mahatma Gandhi on the one side which broadly discussed "Gandhi in India's literary imagination: Rethinking History, Culture and Society". The papers presented at the event were fascinating because the core of each paper was how the Mahatma would react to current issues in India. The Kashmir issue, the idea of exclusion and inclusion, etc. made the seminar more actively functioning. 
Hardly 100 meters from where the seminar was happening, around 200 to 300 students were protesting, and from the placards they carried, I understood it was against the Vice-Chancellor. Obviously, in independent India, we all have the right to raise our voice and question the authorities. The students were calm and non-violent. The leaders were speaking to the crowd and were explaining the issue. The students marched to the VC office against the show cause notice issued to five students of the university. Later a bunch of outsiders came and started attacking the students brutally and the worst part is these goons were sent by the administration. On one side the student and scholars are discussing Gandhi and non-violence and on the other side what we see is a violent administration. More interesting was the fact that the security guards were calm and quiet without intervening, which made me think, they became more 'Gandhian' than anyone else. 
Some placards read "Hate will not make us great"; "No one is illegal in this planet" etc. These slogans were pointing of course to a world where there will be peace and space for every other individual. Even though the protest was settled down, by the administration accepting the students' need, in broader understanding, it was because of the convocation and President coming as the guest which made the administration to take some quick decision. 
---
To retain our initiative towards free spirited and independent journalism we require your support |Pay Now
---
Coming to the protest in JNU, there is a peculiar notion for outsiders, that JNU is a land of protest and students here are wasting the money of 'taxpayers'. Every other day in the hostel mess you will find some 'parchi' (notice) which discusses important issues related to students, their welfare and well being. Many of them will only recognize the intensity of the issue then. Most importantly, this is what makes a JNU student political from an apolitical state. Being a PIG (permanent illegal guest) for many years, I can understand the background of different students coming to study at the campus and their expectations. JNU has produced many civil servants, academicians, and many other important personalities. None of them came to this campus with a huge amount of money but with a belief that this is the only central university that will take them to success without any odds in the run. Even economically weaker students studying in other universities choose JNU as their space to stay, as it is cheap and good. In this context, the new hostel manual is a draconian move by the administration which will spoil the academic culture and atmosphere of the campus. We should not forget it was this academic year only a security guard secured his admission in Russian studies. JNU's pride is any qualified student will never face any issue in completing his or her studies throughout. 
It was in this light of Universities under 'threat'; I was reading Ramachandra Guha's "Democrats and Dissenters" which is divided into three parts and 17 chapters. I was checking out which chapter should be read and my eyes got stuck on two interesting writings, one 'Democracy and Violence in India and Sri Lanka' and the other was 'Which was our worst year ever'. The chapter on Democracy and Violence was almost as expected where Guha was discussing Kashmir issue in detail and the case of Sri Lanka the Tamil and Sinhala issue. What attracted me more was the next chapter which I read where Guha was discussing the worst year in Indian history. He starts with 2008, which was the worst year considering the political and economic atmosphere. A man with experience Guha also adds many other years into the bucket as the worst. He explains it was not just 2008 which was the year of violence, but 1948, 1966, 1984, 2002, etc. were all the worst years for people living in this country. According to livid experience, the citizens might consider a particular year as worst. As a student for me, of course, the increasing distress in the university space becomes more important to analyze. 
If someone asks me which the worst year was for you, it starts from 2016 February, when the whole academia and student community across the country started facing multiple issues. Starting from the JNU protest of Feb 9, 2016, the right of an Indian citizen's freedom of speech came into discussion. Who can dissent, on what and when everything was under scrutiny. A question like who is a nationalist, who is a patriot etc. was continuously discussed by each and every news channel. People outside the university started blaming the student community, the state started cutting down the fund, seat cut was introduced in research, students were not able to get admission to Mphil or Ph.D. 
Besides these, HCU student Rohit Vemula's 'institutional murder', Najeeb's missing for almost 3 years, the arrest of innocent students everything made it the worst year for the student community. The suicide note of Fathima, the student of IIT Madras, is not just shocking, but self-reflection for every student, why we study, why we debate and discuss if harassment and mental torture is the result. 
Even though I was never part of active politics,  I always tried to at least observe what is happening around. Every other student protest was of 'AZADI' (which means freedom in Urdu), and 'Hosh Mein Aao' (come to senses). The teaching community also started joining hands with the students by organizing talks and discussions to sensitize the administration, government, etc. The students were fighting for their rights and their freedom and were, again and again, asking the authorities to 'come to senses' and to understand them. Notably, administrations across universities are still sleeping and 'Hosh Mein Aao' is very  important. Maybe the ongoing struggles at JNU, JMI, IIT, will enable administrations to understanding that a university space is important, not only to students who gain their education there but for the entire society. Universities are spaces where ideas are born and experimented upon, where young minds are nurtured and the foundations for a meaningful life are laid every moment. 
Thafseer Ummer is a PhD scholar at Centre for Studies in Exclusion and Inclusive Policy, JMI.
Now that you are here...
From bottled water to oxygen cans, not even the basics are free in a market-driven world. Why then, do we take free and independent journalism for granted? We find ourselves at a time when more people like you, are reading and coming out in support of The New Leam's independent, in-depth and throughly issue based journalism than ever before. From grassroot stories and field-reports, to in-depth analysis of the pertinent political issues of our times, to news on gender, culture and educational issues- The New Leam has been dedicated to bringing out stories that speak out the soul of India and take you beyond the propaganda-filled corridors of mainstream journalism in India. We have made an important choice of keeping our journalism free of vested political interests, commercial funding and influence of partisan stakeholders, so that we can bring forward news and stories based on facts and provide a platform where readers can find information with integrity and a journalism premised on honesty.
Your support to The New Leam is your contribution towards giving a voice to the voiceless, going to the depths of issues that others shy away from and rigorously illuminating the flame of criticality and courage in dark times. We hope that you will come forward to support The New Leam today so that we can keep delivering quality-independent journalism to you and inform public opinion in the right direction. No matter how big or small your contribution may be, it is tremendously important. It takes only a moment, Support The New Leam now!