When its more Prestigious to be a 'Cow' than a Student of an Indian Public University
15/11/2019
While students of public universities have no hostels to live in, the government plans to build more hostels for cows.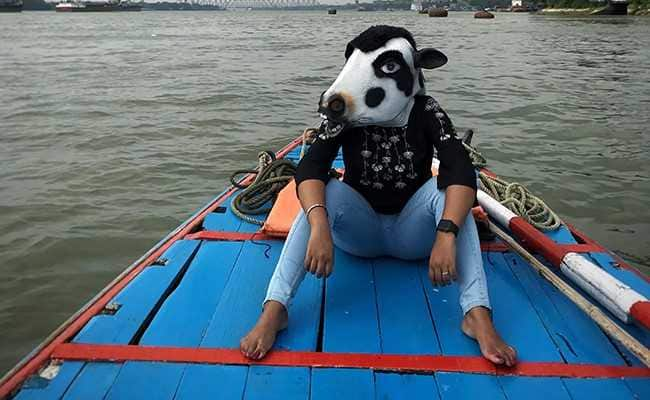 Students in universities across the nation have been protesting against their respective administrations for suddenly hiking hostel fees to an extent that it would become impossible for a majority of students to continue pursuing their education, they have been demanding the building of new hostels or have been resisting the imposition of draconian hostel rules by the administration. 
The point that is worth noting here is that students at Jawaharlal Nehru University have been protesting against a massive hostel fee hike and the draconian impositions of the draft hostel manual which asserts dress codes and curfew timings. 
---
To retain our initiative towards free spirited and independent journalism we require your support |Pay Now
---
On the other end of the spectrum, postgraduate students of the Indian Institute of Technology(IITs)have intensified their protest against the tenfold fee hike for their programme. Moreover, the students of the Banaras Hindu University(BHU)too organised a protest against the visit of Minister of Human Resource Development(MHRD), Ramesh Pokhriyal for the annual convocation held on November 8. Students at IIT Bombay  staged a protest recently against the recent reforms approved by the IIT Council. Among the approved reforms, the council had recommended a 300% hike in the annual tuition fees and also discontinuing the monthly stipend given to M.Tech students. 
It would not be wrong to say that India is witnessing some of the most powerful student protests spread across campuses. We can see the disillusionment growing against the onslaught on public universities in India and the rapidly declining active participation of the government in the nurturance and sustenance of such institutions in the neo-liberal age.  
As thousands of students across university campuses gather and raise their voice for the preservation of their right to quality and subsidised education, the movement is growing strong. 
Hostels for 'Cows' and Not Humans 
While campuses across the length and breadth of the country are being coloured by the shades of resistance, the government is busy planning the development of cow hostels in urban areas! 
Yes,  while students across India are fighting for the restoration of public universities and asking for their right to subsidised and quality education, the nation-state is busy thinking about building more and more cow hostels in urban areas of the country. The Rashtriya Kamdhenu Aayog(National Cow Commission) has proposed to the Centre and the states to allot about 15 specifically marked areas per urban area for the building of "cow hostels". These hostels will be able to give urban dwellers access to fresh milk and also encourage them to generate revenue from it. The implementation of cow hotels is seen as a major task of the government in the upcoming months. The government argues that due to the lack of space, people in urban areas aren't able to raise cows and cow hostels will allow people to maintain cows and relish fresh milk. 
It is expected that the municipal corporations of urban areas would provide land for the building of these hostels and interested customers can keep cows of their choice and can sell milk too. 
It is believed that such hostels would create ample stocks of cow urine and dung for production of bio-fuel and gobar gas. 
It is ironic that at a time when students across the length and breadth of the country are struggling for their most fundamental right to education and public universities are being rapidly destroyed, instead of focusing on their issues and ensuring the development and creation of quality infrastructure for them the government is busy building cow hostels.
 This neglect and marginalisation of students and the privileged status enjoyed by cows only proves what the priorities of the nation-state are. Students have no hostels to live in while the government is sanctioning hostel after hostel for cows!
It shouldn't come at a surprise because we live at a time when its far more prestigious to be a 'cow' than a student studying in an Indian public university.
Now that you are here...
From bottled water to oxygen cans, not even the basics are free in a market-driven world. Why then, do we take free and independent journalism for granted? We find ourselves at a time when more people like you, are reading and coming out in support of The New Leam's independent, in-depth and throughly issue based journalism than ever before. From grassroot stories and field-reports, to in-depth analysis of the pertinent political issues of our times, to news on gender, culture and educational issues- The New Leam has been dedicated to bringing out stories that speak out the soul of India and take you beyond the propaganda-filled corridors of mainstream journalism in India. We have made an important choice of keeping our journalism free of vested political interests, commercial funding and influence of partisan stakeholders, so that we can bring forward news and stories based on facts and provide a platform where readers can find information with integrity and a journalism premised on honesty.
Your support to The New Leam is your contribution towards giving a voice to the voiceless, going to the depths of issues that others shy away from and rigorously illuminating the flame of criticality and courage in dark times. We hope that you will come forward to support The New Leam today so that we can keep delivering quality-independent journalism to you and inform public opinion in the right direction. No matter how big or small your contribution may be, it is tremendously important. It takes only a moment, Support The New Leam now!