Thousands take part in anti-CAA protests across the country
19/12/2019
Sunil Mittal, the owner of Airtel has said that " We are bound by the order of the government". Airtel has announced that it has suspended mobile services in many parts of Delhi due to the request of the government.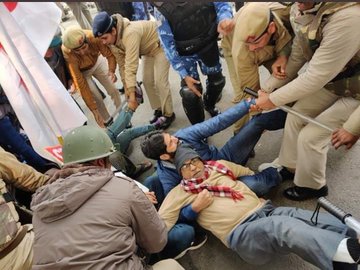 Thousands take part in anti-CAA protests across Uttar Pradesh, Delhi, Karnataka. In the nation Capital, hundreds of protestors were temporarily detained as they defied Section 144, a law banning the gathering of more than four people at a place. 100 people were detained in Bengaluru including Historian Ramchandra Guha.
The Delhi-Haryana border was also sealed by the police to disallow the entry of thousands of protestors, who were coming in to take part in the protests at Red Fort. In Sambhal, UP public busses were burnt down and in Lucknow and Gujarat too protestors have clashed with the police.
The police has imposed prohibitory orders under CrPC Section 144 in Delhi amid widespread protest against the CAA. DMRC has shut down several entry and exit gates of metro stations throughout the city.
---
6.10 PM – Uttar Pradesh Chief Minister Yogi Adityanath has said that the Opposition is misleading the people
6 PM – DMK has invited Kamal Haasan formally to take part in the anti-CAA protests going on in Chennai
5.50 PM – Maharashtra CM Uddhav Thackery calls review meeting to look not the law and order situation in Maharashtra .
5.40 PM –Bengal CM Mamata Banerjee says "BJP is buying skull caps for its cadres who are wearing them while vandalising properties to malign a particular community."
US Embassy issues caution note for its citizens in India under the turbulent conditions in the present times. 
---
To retain our initiative towards free spirited and independent journalism we require your support |Pay Now
---
4.47 PM- Home Ministry will review the law and order situation in the wake of the Anti-CAA protests going on all over the country.
4.50 PM – Maharashtra Cm Uddhav Thackery says that CAA would not be implemented in Maharashtra.
4.45 PM – Shabana Azmi's Message to CAA Protestors.
4.41 PM – Several vehicles have been torched down in Lucknow.
4.40 PM – Protestors gather at August Kranti Maidan, Mumbai.
4.20 PM – DMRC has shut the entry and exit gates of several metro stations in Delhi. Many offices in Delhi-NCR have suggested employees to work from home and refrain from joining in the protests.
4.10 PM – Violence breaks out in Lucknow as protestors clash with police during Anti-CAA protests
4.05 PM – Hundreds of people have gathered to protest against the CAA in Chandigarh . They have gathered outside a mosque in Sector 20.
4.00 PM –  Hyderabad begins protests at Necklace Road. Detained students have been released.
3.33 PM – Violent protests have broken out in the city of Lucknow where police has resorted to the use of tear-gas shells to disperse the public.
3.39 PM – Section 144 has been imposed in Karnataka and Uttar Pradesh amid severe protests 
3.30 – Writer-activist Arundhati Roy has joined the protests at Jantar Mantar.
3.25 PM -All shops have been closed down in Old Ahmedabad due to the massive anti-CAA protests going on in the city.
3.20 PM – Sunil Mittal, the owner of Airtel has said that " We are bound by the order of the government". Airtel has announced that it has suspended mobile services in many parts of Delhi due to the request of the government.
Now that you are here...
From bottled water to oxygen cans, not even the basics are free in a market-driven world. Why then, do we take free and independent journalism for granted? We find ourselves at a time when more people like you, are reading and coming out in support of The New Leam's independent, in-depth and throughly issue based journalism than ever before. From grassroot stories and field-reports, to in-depth analysis of the pertinent political issues of our times, to news on gender, culture and educational issues- The New Leam has been dedicated to bringing out stories that speak out the soul of India and take you beyond the propaganda-filled corridors of mainstream journalism in India. We have made an important choice of keeping our journalism free of vested political interests, commercial funding and influence of partisan stakeholders, so that we can bring forward news and stories based on facts and provide a platform where readers can find information with integrity and a journalism premised on honesty.
Your support to The New Leam is your contribution towards giving a voice to the voiceless, going to the depths of issues that others shy away from and rigorously illuminating the flame of criticality and courage in dark times. We hope that you will come forward to support The New Leam today so that we can keep delivering quality-independent journalism to you and inform public opinion in the right direction. No matter how big or small your contribution may be, it is tremendously important. It takes only a moment, Support The New Leam now!