NRC Detention Centres or Modern-day Concentration Camps?
07/12/2019
A nationwide NRC exercise may further entrench social inequality, communal conflict and exploitative gender relations in our country.

Union Home Minister Amit Shah stated in the Parliament a few days ago that NRC will be conducted across India. This comes as no surprise, as after the publication of final NRC is Assam, several BJP leaders have asked for a similar exercise in their respective states. The nationwide NRC is also a way for the BJP to come out of the Assam fiasco, where the final list was not in accordance with their whims and fancies and both Assam Government and Assam BJP leaders have expressed their dissatisfaction with it.
Since now we are going to have a nationwide NRC, which is nothing but a mere diversionary tactics of the BJP government from increasingly pathetic economic situation, we must implore the implications of this NRC for those who have been out in the Assam one, and those who will be left out in the upcoming one- mostly Muslims as people of other religion will be granted citizenship through the Citizenship Amendment Bill.
The NRC exercise has been described as 'Internal Matter' by the Indian State. Prime Minister Narendra Modi in his meeting with his Bangladeshi counterpart in October this year assured her that NRC was "India's Internal Matter".  Similar comments were made by External Affairs Minister S. Jaishankar in August during his Bangladesh Visit. As per an RTI inquiry directed to the External Affairs Ministry, there is no formal treaty or ongoing talks between Indian and Bangladesh over the fate of those who have been- or those who will be – left out in the NRC process. The Bangladeshi Government too, considers NRC as India's "internal matter".  Earlier this year in June, the Bangladeshi Foreign Minister categorically stated that no Bangladeshi citizen went to India after 1971.
---
To retain our initiative towards free spirited and independent journalism we require your support |Pay Now
---
Given the situation that both India and Bangladesh are not ready and willing to accept those 1.9 million people who were declared illegal immigrants following the Assam NRC, as citizens of their respective countries, the question arises about their fate. What will happen to them? This question becomes more serious as now NRC will be conducted across India, which will result in many more people being declared as 'illegal immigrants'.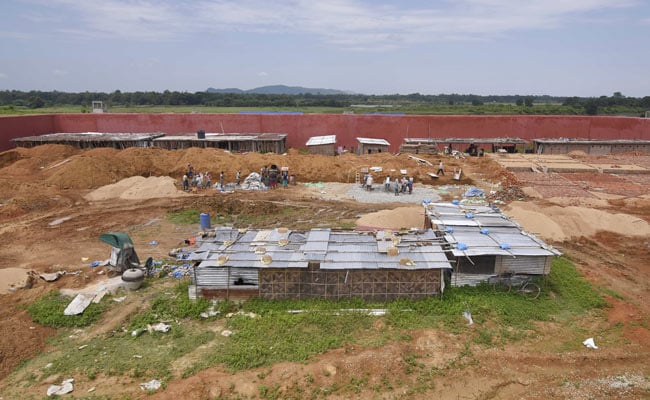 Currently there is one detention center in Assam and the state has further demanded construction of 10 more such centers for holding those left out in the NRC process. The Home Ministry has also asked every states and union territory to build at least one such camp in their states and UT's.  Until now twenty-five deaths have occurred in the Assam detention center and there is absolutely no accountability for those deaths, and herein lies the most crucial aspect of the whole NRC process.  The people living in the detention camps have been completely stripped off from any form of human rights and are living, what the Italian Philosopher Giorgio Agamben calls "bare life" or "naked life". Agamben employs the ancient Greek political concept of Homo Sacer – a sacred person who can be be killed by anyone but not scarified in religious rituals- to describe Nazi Concentration camps and the precarious life of Jews under Nazi Regime.  According to Agamben 'bare life' is used to refer to subjects who are denied both political and legal representation; they are not humans but animals in nature without any political rights.
Considering the fact that neither India not Bangladesh is ready to accept those 1.9 million people as citizens or even refuges, they and many more who will be left out in the upcoming National NRC are nothing but mere 'bare life'.  They are not just 'immigrants' or refuges they are 'illegal' immigrants, which means that they are not protected under the laws of the Indian State.  Union Home Minister has already dehumanized them by repeatedly referring to them as 'termites' in his political rallies.  These 'illegal' immigrants can be killed by anyone, without inviting any punishment, as they are not protected under the canopy of Indian Constitution and Law- which is very much evident in the death of around twenty five such detainees.  The detention centers are nothing but a replica of Nazi Concentration camps, pushing detainees though slows death, if not outright extermination.
Further, in light of the precarious legal situation of detainees and absolute silence of mainstream opposition parties as well as deafening silence of the International community, the detention centers might turn into sites of flesh trade; organ trade and slave form of labor, leading to a deep humanitarian crisis with very serious consequences especially for women and children.
Harshvardhan Tripathi is a Doctoral Researcher at JNU, New Delhi.
Now that you are here...
From bottled water to oxygen cans, not even the basics are free in a market-driven world. Why then, do we take free and independent journalism for granted? We find ourselves at a time when more people like you, are reading and coming out in support of The New Leam's independent, in-depth and throughly issue based journalism than ever before. From grassroot stories and field-reports, to in-depth analysis of the pertinent political issues of our times, to news on gender, culture and educational issues- The New Leam has been dedicated to bringing out stories that speak out the soul of India and take you beyond the propaganda-filled corridors of mainstream journalism in India. We have made an important choice of keeping our journalism free of vested political interests, commercial funding and influence of partisan stakeholders, so that we can bring forward news and stories based on facts and provide a platform where readers can find information with integrity and a journalism premised on honesty.
Your support to The New Leam is your contribution towards giving a voice to the voiceless, going to the depths of issues that others shy away from and rigorously illuminating the flame of criticality and courage in dark times. We hope that you will come forward to support The New Leam today so that we can keep delivering quality-independent journalism to you and inform public opinion in the right direction. No matter how big or small your contribution may be, it is tremendously important. It takes only a moment, Support The New Leam now!