JNUSU Confuses students: Releases Statement Asking Students to Register by Paying only Tuition Fee, Withdraws Later
13/01/2020
In a confusing move, the JNUSU asked students to register after depositing old tuition fee, withdrew statement shortly.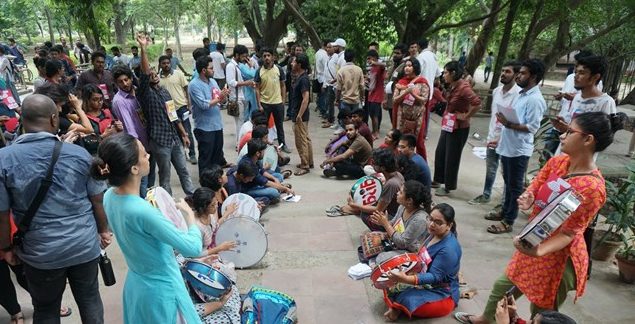 After nearly three months of strike and boycott of academic activities, JNUSU released a statement Saturday night. It gave a call for paying the semester tuition fee but not the hiked room rent. The tuition fee is Rs. 108 for undergraduate and post-graduate students while Rs. 120 for PhD students. The students have been asked to pay the fee online on the JNU Cashless portal. Registration deadline has been further extended to 15.01.2020. 
However, JNUSU emphasized that the 'illegal' IHA manual will not be accepted by the students at any cost. "We will not pay a penny more!", reads the statement. The Union shall pressurize the administration to ensure registration at the old fee. The administration has blocked the registration of over 300 students over non-payment of fines and pending inquiries. JNUSU has asked all such students to contact the office-bearers and School Councillors with a screenshot of the same. The protests for sacking of the V-C will also continue after registering at the old hostel rates.
However, hostel caretakers have refused to give clearance to payments made as per the old hostel fee. As per the new fee structure, the room rent is increased to Rs. 3,600 per semester for single-seater and Rs. 1,800 per semester for double-seater. There is a 50% concession for all BPL students. Apart from this, every student is liable to pay Rs. 1,100 per semester as Establishment charges.
---
To retain our initiative towards free spirited and independent journalism we require your support |Pay Now
---
This statement was met by mixed response and it also sparked a lot of confusion among students. A lot of students were not in favour because the demand was for a complete roll-back and that has not been fulfilled. It was also not clear as to how JNUSU could take such a call without discussing it with SFC (Student Faculty Committee) representatives in a GBM.
On Sunday morning, JNUSU held a meeting with SFCs, after which it released several clarifications. This is a call for registration at old rates and not acceptance of the new fee structure. The demands are to allow all academically suspended students to be allowed to register and their access to the portal should not be blocked. There should be a buffer period provided for examinations. On Sunday evening, following opposition by several SFCs, JNUSU put it on hold and asked students not to generate folios even if they have paid the fee as per the earlier instruction. 
It must be noted that a large portion of the student body is disappointed with the functioning of the Union and fed up of the long deadlock. More than 3800 students have already registered, according to Registrar Pramod Kumar.
Now that you are here...
From bottled water to oxygen cans, not even the basics are free in a market-driven world. Why then, do we take free and independent journalism for granted? We find ourselves at a time when more people like you, are reading and coming out in support of The New Leam's independent, in-depth and throughly issue based journalism than ever before. From grassroot stories and field-reports, to in-depth analysis of the pertinent political issues of our times, to news on gender, culture and educational issues- The New Leam has been dedicated to bringing out stories that speak out the soul of India and take you beyond the propaganda-filled corridors of mainstream journalism in India. We have made an important choice of keeping our journalism free of vested political interests, commercial funding and influence of partisan stakeholders, so that we can bring forward news and stories based on facts and provide a platform where readers can find information with integrity and a journalism premised on honesty.
Your support to The New Leam is your contribution towards giving a voice to the voiceless, going to the depths of issues that others shy away from and rigorously illuminating the flame of criticality and courage in dark times. We hope that you will come forward to support The New Leam today so that we can keep delivering quality-independent journalism to you and inform public opinion in the right direction. No matter how big or small your contribution may be, it is tremendously important. It takes only a moment, Support The New Leam now!