Kashmir's Internet Express: Thousands Board the Train in Search of an Internet Access
17/01/2020
The Internet Express has become a new rage among Kashmir's youth, it is their chance at accessing the internet and reconnecting with the outer world.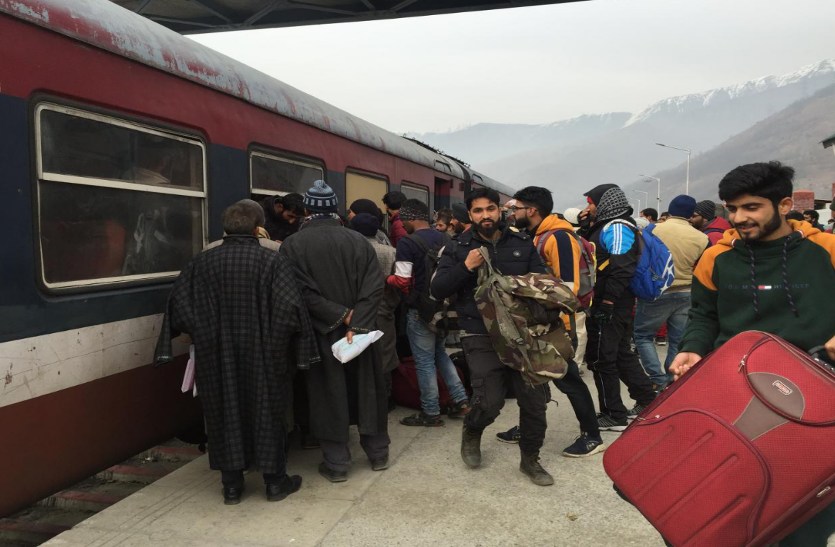 August 5, 2019 was one of the many dark days in the history of Kashmir. Article 370 was abrogated. Jammu and Kashmir lost its special status as well as statehood. It was bifurcated into two union territories. Alongside this larger political restructuring, another major change occurred. The entire region got disconnected and was forced to go offline. Internet broadband as well as cellular data services continue to remain suspended 164 days later. 
Thousands of Kashmiris board the crammed train and travel for hours to be able to access the internet. It is now called the Internet Express by the locals. Passengers alight at Banihal, situated 100 km south of Srinagar, and queue up outside cyber cafes for an hour-long access to the internet at Rs. 300. This is the longest ever internet shutdown the region has faced. The several hundred internet kiosks run by the government are not sufficient for the region with a population of over one crore.
The Many Implications of the Clampdown
---
To retain our initiative towards free spirited and independent journalism we require your support |Pay Now
---
While curfews and detention are everyday phenomena in Kashmir, this disconnect has had severe ramifications. In a world where everything is available at one's fingertips, the shutdown has had more than financial costs. Nearly five lakh jobs have been lost according to Kashmir Chamber of Commerce and Industry estimates. Many more job losses are feared because the services sector largely depends on internet connectivity, be it courier services or travel bookings for tourists. The economy has suffered a colossal loss amounting to $2.4 billion. The sectors worst hit have been e-commerce and IT, along with tourism. 
Apart from these, it affects daily life. Applications for several examinations, jobs, overseas institutions as well as scholarships can only be made online. The residents are missing out on a number of opportunities for no fault of theirs. A young student would be unable to apply for or renew her scholarship and be forced to drop out; another young student would not be able to write an upcoming entrance examination. The costs of losing a crucial year of one's career or a job opportunity could be far more than one can imagine. It could affect the life chances of an entire family. So many futures are at stake.
Deprivation in the Name of Security
Internet has been accepted as a human right by international development agencies such as UN, as well as by several courts. However, these blackouts are now coming to be normalized in rest of India as well, especially in the wake of anti-CAA protests. The state claims that this has been done in public interest – to avoid conflicts, rumour-mongering and political unrest. By disrupting daily life in the name of public safety and national security, the clampdown has done more harm than good. 
As the residents have been deprived of their fundamental right, they have lost contact with their loved ones far and wide. It is as though they live in different worlds despite being in the same country. Their relatives who live outside the region can only hope and pray for their well-being and safety. For the residents, there is no way to reach out to those who are near as well as far. Human beings are social beings; the state of being cut off from the rest of the world also has adverse emotional and psychological consequences. The state has no right to isolate the citizens of one state from the rest of the world by imposing an indefinite shutdown. 
Supreme Court to the Rescue
In response to a petition by the Executive Editor of Kashmir Times, Ms. Anuradha Bhasin, the Supreme Court verdict emphasized that internet remains a fundamental right of the citizens. "Suspension of free movement, internet and basic freedoms cannot be an arbitrary exercise of power", it said. The state has been directed to review the ban on internet services within a week. This move of the apex court linking it to Article 19 of the Constitution which protects one's freedom of speech and expression and that of conducting economic activities using the internet has been widely welcomed. As the valley waits to go back online, we as aware citizens must continue to uphold human rights and freedom and resist Fascist clampdowns of such kind.
Now that you are here...
From bottled water to oxygen cans, not even the basics are free in a market-driven world. Why then, do we take free and independent journalism for granted? We find ourselves at a time when more people like you, are reading and coming out in support of The New Leam's independent, in-depth and throughly issue based journalism than ever before. From grassroot stories and field-reports, to in-depth analysis of the pertinent political issues of our times, to news on gender, culture and educational issues- The New Leam has been dedicated to bringing out stories that speak out the soul of India and take you beyond the propaganda-filled corridors of mainstream journalism in India. We have made an important choice of keeping our journalism free of vested political interests, commercial funding and influence of partisan stakeholders, so that we can bring forward news and stories based on facts and provide a platform where readers can find information with integrity and a journalism premised on honesty.
Your support to The New Leam is your contribution towards giving a voice to the voiceless, going to the depths of issues that others shy away from and rigorously illuminating the flame of criticality and courage in dark times. We hope that you will come forward to support The New Leam today so that we can keep delivering quality-independent journalism to you and inform public opinion in the right direction. No matter how big or small your contribution may be, it is tremendously important. It takes only a moment, Support The New Leam now!