Nationwide Strike Over 'Anti-People'Policies, Trade Unions Mobilise
08/01/2020
Trade union leaders have alleged that the government has failed to tackle the challenges posed by a declining economy and criticised its move for privatisation and selling of PSUs.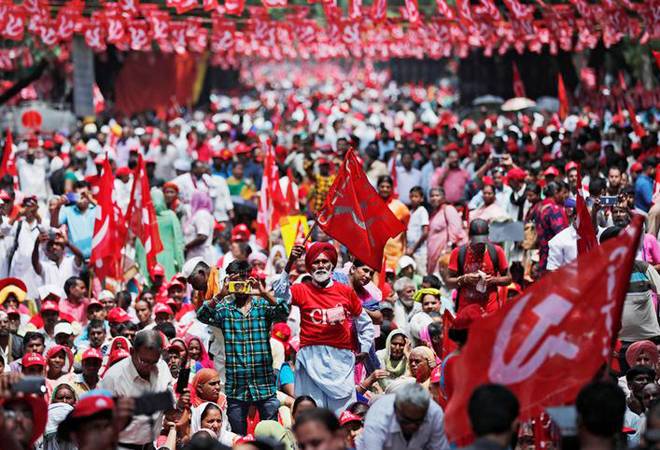 Over 10 major trade  unions of the country and 25 crore people are likely to participate in a countrywide strike today against the alleged 'anti-people' policies of the state.In September 2019, a declaration was adopted by trade unions — INTUC, AITUC, HMS, CITU, AIUTUC, TUCC, SEWA, AICCTU, LPF, UTUC —along with various sectoral independent federations and associations to go on a nationwide strike on January 8, 2020. The nationwide strike, popularly referred to as 'Bharat Bandh' is set to take place today across various states in the country.
And according to these central trade unions (CTUs), around 25 crore people are expected to participate in the nationwide strike which is organized to protest against the government's "anti-people" policies.
In a joint statement released on Monday, the unions informed, "We expect participation of not less than 25 crore of working people in the forthcoming National General Strike on January 8, 2020, to be followed by many more actions seeking reversal of the anti-worker, anti-people, anti-national policies of the Government."
---
To retain our initiative towards free spirited and independent journalism we require your support |Pay Now
---
Further adding, "The Ministry of Labour has failed to assure on any of the demands of workers which called a meeting on January 2, 2020. The attitude of the government is that of contempt towards labour as we construe from its policies and actions."
Along with them, about 60 organisations of students and elected office bearers of some universities have also decided to join the strike with an agenda to raise voice against increased fee structure and commercialization of education, the statement mentioned according to PTI.Taking notice of the recent violent attacks on JNU students and similar incidents in other university campuses, the trade unions expressed their condemnation and expressed their solidarity with students and teachers all over India.
The unions also expressed displeasure over no Indian Labour Conference being held since July 2015, codification of labour laws and privatisation of PSUs.
"As many as 12 airports are already sold out to private hands, 100 per cent sale of Air India is already decided, decision to sell BPCL taken, BSNL-MTNL merger announced and 93,600 telecom workers already thrown out of jobs under the garb of VRS (voluntary retirement scheme)," the statement also added.
The unions are also against privatisation in railways, corporatisation of 49 defence production units and forced merger of banks.
Joint platform of more than 175 farmers and agricultural workers unions will also extend its support to workers' demands and observe January 8 as Gramin Bharart Bandh along with their charter of demands, they added.In December 2019, Farmers had declared a call for 'Grameen' Bharat bandh on January 8.
The All India Kisan Sangharsh Coordination Committee (AIKSCC) had declared that farmers across the country will organise a nationwide 'Grameen Bharat' bandh on January 8 against the anti-farmer policies and inaction of the Centre on the demands of the farmers.
AIKSCC is the umbrella body of over 100 farmer organizations from across India.The protest will highlight the Narendra Modi-led government's failure on various fronts such as in ensuring Minimum Support Prices (MSP) at C2+50% for all crops, providing freedom from indebtedness, implementing effective crop insurance and disaster compensation in the face of drought, floods and unseasonal rains, and implementing Forest Rights Act.
The decision was made at the 3rd National Convention of AIKSCC. The two-day convention which saw the participation of 800 delegates from 25 states, concluded in the national capital.
Now that you are here...
From bottled water to oxygen cans, not even the basics are free in a market-driven world. Why then, do we take free and independent journalism for granted? We find ourselves at a time when more people like you, are reading and coming out in support of The New Leam's independent, in-depth and throughly issue based journalism than ever before. From grassroot stories and field-reports, to in-depth analysis of the pertinent political issues of our times, to news on gender, culture and educational issues- The New Leam has been dedicated to bringing out stories that speak out the soul of India and take you beyond the propaganda-filled corridors of mainstream journalism in India. We have made an important choice of keeping our journalism free of vested political interests, commercial funding and influence of partisan stakeholders, so that we can bring forward news and stories based on facts and provide a platform where readers can find information with integrity and a journalism premised on honesty.
Your support to The New Leam is your contribution towards giving a voice to the voiceless, going to the depths of issues that others shy away from and rigorously illuminating the flame of criticality and courage in dark times. We hope that you will come forward to support The New Leam today so that we can keep delivering quality-independent journalism to you and inform public opinion in the right direction. No matter how big or small your contribution may be, it is tremendously important. It takes only a moment, Support The New Leam now!