Nationwide Trade Union Strike Sees Participation of Thousands Across Cities
08/01/2020
Thousands of people are taking part in nationwide trade union strike against economic slowdown, privatisation and growing unemployment in the country.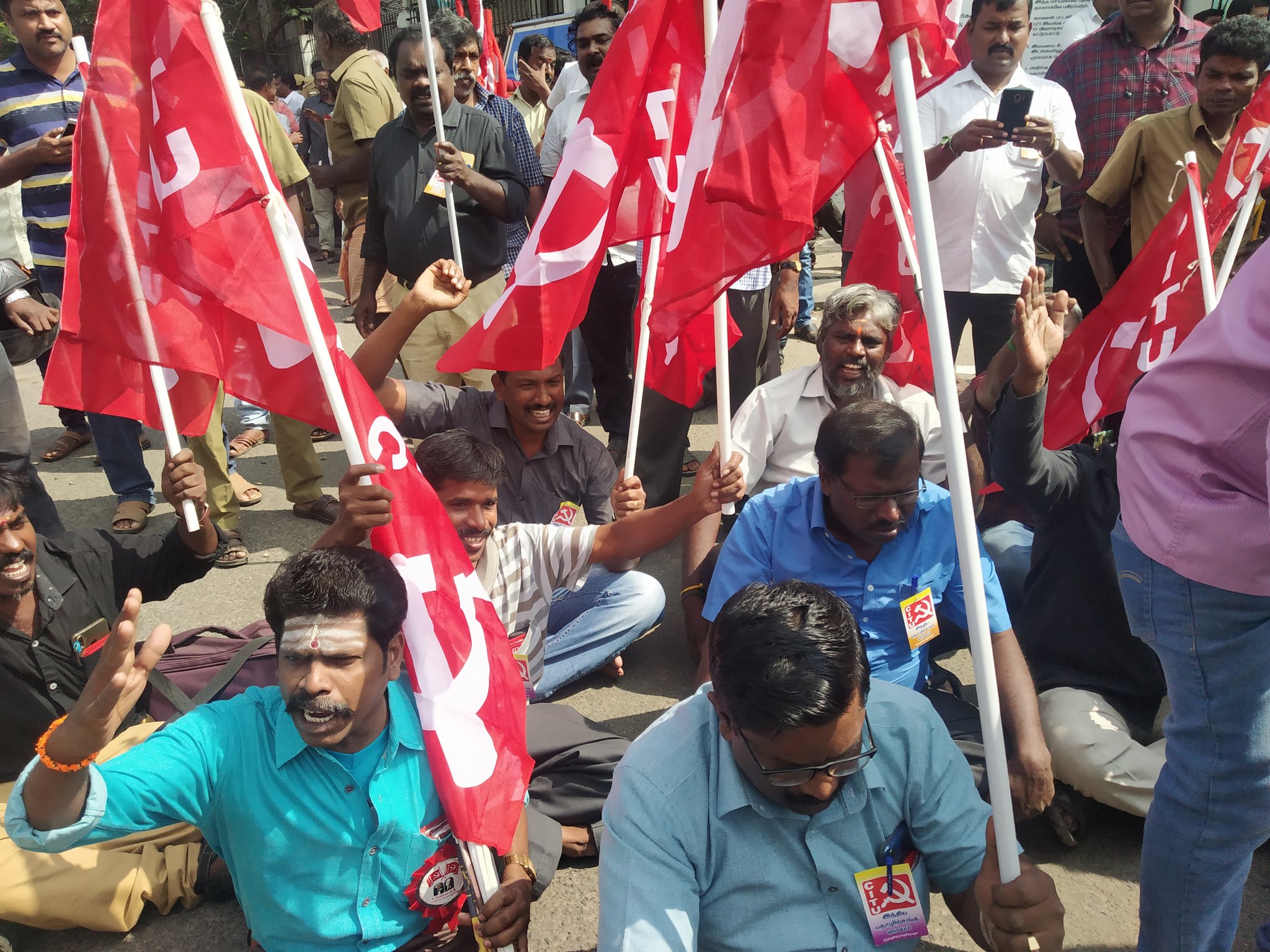 Thousands of people have been taking part in the nationwide trade union led strike that is taking place today. Workers affiliated to various trade unions in multiple corners of India have made their presence count in this strike. Due to the ongoing strike call, transportation, banking services have been impacted in various towns and cities across the country. Workers and trade unions are expressing their disillusionment with the growing impacts of the economic slowdown and the shrinkage of jobs.
More than 10 national trade unions affiliated to major left-wing parties have taken part in the strike, they have also called for a sustained protest against the present regime's 'anti-people' policies and incongruent labour reforms. Among the various issues over which dissatisfaction has been expressed by the trade unions are the government's sustained move towards privatisation of state run companies such as Indian Airlines and oil major BPCL as well as the merger of public-sector banks of the country. 
In West Bengal, as part of the strike, workers have disrupted train services in Kolkata and across the various towns while shops and banks were shut down in various places. Buses, taxis and other public transport stayed off the road in West Bengal. The same was true for Kerala. Delhi and Mumbai remained largely unaffected by the strike call. 
---
To retain our initiative towards free spirited and independent journalism we require your support |Pay Now
---
All India Bank Employees' Association along with many other trade unions have cautioned that enhanced privatisation of the economy and the merger of public sector banks will threaten to make the economy decline even further and led to a  massive job cut down in the market. Moreover, they also raised issues concerning the greater economic slowdown under the current regime and the creation of bad loans for the banks. 
There is an urgent need by the government to take corrective measures and roll back incongruent polices, the trade unions and workers appealed. The government had earlier issued a warning to employees that participation in the strike in any form would lead to the deduction of their wages and appropriate disciplinary action would be initiated against those who took part. 
It is to be acknowledged that India is Asia's third largest economy and is presently experiencing the worst economic slowdown of decades. Congress leader Rahul Gandhi has said that the policies of the present government have catastrophic implications for employment and have weakened state led companies. Thousands of people have lost their jobs in manufacturing and construction sector and debt ridden companies have even had to cut down on their construction plans. Unemployment rate rose to 7.7% in December from 7% a year ago, the data released by the Centre for Monitoring the India Economy revealed. It is also believed that the government may cut down spending for the current fiscal year by 2 trillion rupees as it is facing one of the biggest tax shortfalls in recent years due to the slowdown of the economy.
Now that you are here...
From bottled water to oxygen cans, not even the basics are free in a market-driven world. Why then, do we take free and independent journalism for granted? We find ourselves at a time when more people like you, are reading and coming out in support of The New Leam's independent, in-depth and throughly issue based journalism than ever before. From grassroot stories and field-reports, to in-depth analysis of the pertinent political issues of our times, to news on gender, culture and educational issues- The New Leam has been dedicated to bringing out stories that speak out the soul of India and take you beyond the propaganda-filled corridors of mainstream journalism in India. We have made an important choice of keeping our journalism free of vested political interests, commercial funding and influence of partisan stakeholders, so that we can bring forward news and stories based on facts and provide a platform where readers can find information with integrity and a journalism premised on honesty.
Your support to The New Leam is your contribution towards giving a voice to the voiceless, going to the depths of issues that others shy away from and rigorously illuminating the flame of criticality and courage in dark times. We hope that you will come forward to support The New Leam today so that we can keep delivering quality-independent journalism to you and inform public opinion in the right direction. No matter how big or small your contribution may be, it is tremendously important. It takes only a moment, Support The New Leam now!