SC Discusses Discrimination Against Women in Religious Places
14/01/2020
SC begins hearing on issues related to discrimination against women at places of worship in light of Sabarimala Temple issue.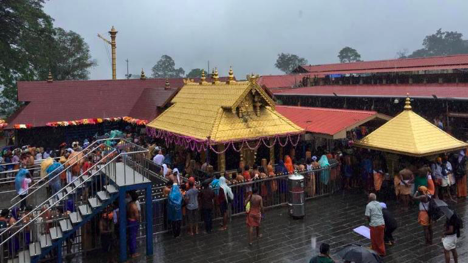 On Monday, the Supreme Court of India taking note of the cases of discrimination against women asked four senior lawyers to convene a meeting on January 17 to discuss the matter. The apex court had commenced hearing on Monday on issues related to discrimination against women at places of worship, including entry into Kerala's Sabarimala Temple.
The bench said that it will only hear the questions referred in the review order passed by the court on November 14 in the Sabarimala temple issue. The top court, however, made it clear at the outset that it was not considering review pleas in the Sabarimala case.
"We are not hearing review pleas of Sabarimala case. We are considering issues referred to by a five-judge bench earlier," said a nine-judge Constitution bench, headed by Chief Justice SA Bobde.
---
To retain our initiative towards free spirited and independent journalism we require your support |Pay Now
---
The bench said it would consider listing the petitions related to entry of Muslim women into mosques, female genital mutilation in the Dawoodi Bohra Muslim community and barring of Parsi women, married to non-Parsi men, from the holy fire place at Agiary.
The constitutional bench comprised Chief Justice SA Bobde, Justices R Banumathi, S Abdul Nazeer, Ashok Bhushan, L Nageshwar Rao, BR Gavai, Surya Kant, R Subhash Reddy and Mohan M Shantangoudar. It said lawyers will conduct this meeting on 17 January and the Supreme Court secretary general will also attend the meeting.
It said the apex court secretary general would coordinate with the four senior advocates, including Solicitor General Tushar Mehta and AM Singhvi, in thrashing out issues to be dealt by it.
The bench noted that, the lawyers would decide whether the several issues referred to it by an earlier bench on November 14 last year needed to be reframed. Further adding, the meeting should also deal with the time to be allotted to each lawyer for advancing arguments in the case.
Suggesting that the opposing sides in the Sabarimala temple case should meet to fine tune the issues already suggested by the Sabarimala bench, the CJI S A Bobde on Monday granted three-week time to file their suggestions."We will grant three weeks' time for this (deciding the issues) and we will put this matter after that for hearing," Chief Justice said.
The bench specifically notified that it would not go into the specific details of each case like Sabarimala temple matter and would strictly go by the reference order of November 14 in deciding the scope of judicial intervention in matters of religious issues.
While referring the matter to a larger bench, the five-judge bench had said that the debate about the constitutional validity of religious practices like bar on entry of women and girls into a place of worship was not limited to the Sabarimala case.
It added, such restrictions are there with regard to entry of Muslim women into mosques and 'dargahs' and Parsi women, married to non-Parsi men, being barred from the holy fire place of an Agiary.
It set out seven questions of law to be examined by the larger bench. They included interplay between freedom of religion under Articles 25 and 26 of the Constitution; need to delineate the expression 'constitutional morality'; the extent to which courts can inquire into particular religious practices; meaning of sections of Hindus under Article 25 and whether 'essential religious practices' of denomination or a section thereof are protected under Article 26.
While the five-judge bench unanimously agreed to refer religious issues to a larger bench, it gave a 3:2 split decision on petitions seeking a review of the apex court's September 2018 decision allowing women of all ages to enter the Sabarimala shrine in Kerala.
A majority verdict by then Chief Justice Ranjan Gogoi and Justices AM Khanwilkar and Indu Malhotra had decided to keep pending pleas seeking a review of its decision regarding entry of women into the shrine, and said restrictions on women in religious places was not restricted to Sabarimala alone and was prevalent in other religions as well.
The minority verdict by Justices RF Nariman and DY Chandrachud had given a dissenting view by dismissing all review pleas and directing compliance of its September 28 decision.
The split decision had come on 65 petitions – 56 review petitions, four fresh writ petitions and five transfer pleas – which were filed after the apex court verdict of September 28, 2018 sparked violent protests in Kerala.
The top court on January 6 had notified that the petition by Indian Young Lawyers Association, seeking review of its 2018 Sabarimala judgment, had been listed. "Take notice that the following matters will be listed for hearing before a Nine Judges Constitution Bench commencing from Monday the 13th January, 2020", the notice said.
Now that you are here...
From bottled water to oxygen cans, not even the basics are free in a market-driven world. Why then, do we take free and independent journalism for granted? We find ourselves at a time when more people like you, are reading and coming out in support of The New Leam's independent, in-depth and throughly issue based journalism than ever before. From grassroot stories and field-reports, to in-depth analysis of the pertinent political issues of our times, to news on gender, culture and educational issues- The New Leam has been dedicated to bringing out stories that speak out the soul of India and take you beyond the propaganda-filled corridors of mainstream journalism in India. We have made an important choice of keeping our journalism free of vested political interests, commercial funding and influence of partisan stakeholders, so that we can bring forward news and stories based on facts and provide a platform where readers can find information with integrity and a journalism premised on honesty.
Your support to The New Leam is your contribution towards giving a voice to the voiceless, going to the depths of issues that others shy away from and rigorously illuminating the flame of criticality and courage in dark times. We hope that you will come forward to support The New Leam today so that we can keep delivering quality-independent journalism to you and inform public opinion in the right direction. No matter how big or small your contribution may be, it is tremendously important. It takes only a moment, Support The New Leam now!