Supreme Court Refuses to Put Stay on CAA
22/01/2020
While making it clear that it will not grant any stay on the CAA without hearing the Centre, SC restrained all high courts from hearing pleas on CAA till it decides the petitions.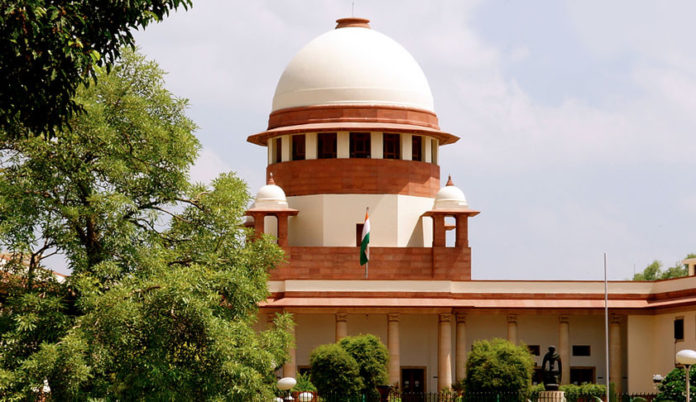 On Wednesday the Supreme Court gave a hearing to a batch of pleas seeking to examine the constitutional validity of the Citizenship (Amendment) Act (CAA). The bench comprised of Chief Justice SA Bobde and Justices S Abdul Nazeer and Sanjiv Khanna, heard over 140 petitions, including those filed by the Indian Union Muslim League (IUML) and Congress leader Jairam Ramesh.
The SC bench while making it clear that it will not grant any stay on the CAA without hearing the Centre,  restrained all high courts from hearing pleas on CAA till it decides the petitions. 
The SC further gave the Centre four weeks to respond to pleas challenging the validity of the Citizenship Amendment Act (CAA) and said it will set up a five-judge Constitution bench to hear the petitions. 
---
To retain our initiative towards free spirited and independent journalism we require your support |Pay Now
---
The bench also said it will hear petitions pert it will hear petitions pertaining to Assam and Tripura separately as the problem with CAA in these two states is different from rest of the country. 
"The petitions concerning Assam and Tripura as well as matters related to Uttar Pradesh, which is going ahead with the implementation of CAA without framing any rules, can be dealt with separately," the court said. 
The petitions were seeking a stay on the operation of the legislation which came into force on January 10. 
On January 9, the Supreme Court had refused to entertain a plea seeking that the CAA be declared constitutional, saying the country is going through difficult times and there is so much violence that endeavour should be for peace.
The Citizenship (Amendment) Act (CAA) seeks to grant citizenship to non-Muslim migrants belonging to Hindu, Sikh, Buddhist, Christian, Jain and Parsi communities who came to the country from Pakistan, Bangladesh and Afghanistan on or before December 31, 2014. President Ram Nath Kovind had given his assent to the Citizenship (Amendment) Bill, 2019 on December 12, turning it into an Act.
IUML sought an interim stay on the operation of CAA and the Foreigner Amendment (Order), 2015 and Passport (Entry Into Rules), Amendment Rules, 2015.
IUML said in its plea that CAA violates the fundamental Right to Equality and intends to grant citizenship to a section of illegal immigrants by making an exclusion on the basis of religion.
The petition had alleged that the government's CAA was against the basic structure of the Constitution and intended to explicitly discriminate against Muslims as the Act extended benefits only to Hindus, Sikhs, Buddhists, Jains, Parsis and Christians.
The plea filed by Congress leader Jairam Ramesh, said the Act is a "brazen attack" on core fundamental rights envisaged under the Constitution and treats "equals as unequal".
Jairam Ramesh further added that the substantial questions of law, including whether religion can be a factor to either acquire or deny citizenship in India, arises for consideration of the court as it is a "patently unconstitutional" amendment to the Citizenship Act, 1955.
Several other petitions had also been filed challenging the constitutional validity of the CAA, including by RJD leader Manoj Jha, Trinamool Congress MP Mahua Moitra, AIMIM leader Asaduddin Owaisi. Several other petitioners include Muslim body Jamiat Ulama-i-Hind, All Assam Students Union (AASU), Peace Party, CPI, NGOs 'Rihai Manch' and Citizens Against Hate, advocate M L Sharma, and law students have also approached the apex court challenging the Act.
Now that you are here...
From bottled water to oxygen cans, not even the basics are free in a market-driven world. Why then, do we take free and independent journalism for granted? We find ourselves at a time when more people like you, are reading and coming out in support of The New Leam's independent, in-depth and throughly issue based journalism than ever before. From grassroot stories and field-reports, to in-depth analysis of the pertinent political issues of our times, to news on gender, culture and educational issues- The New Leam has been dedicated to bringing out stories that speak out the soul of India and take you beyond the propaganda-filled corridors of mainstream journalism in India. We have made an important choice of keeping our journalism free of vested political interests, commercial funding and influence of partisan stakeholders, so that we can bring forward news and stories based on facts and provide a platform where readers can find information with integrity and a journalism premised on honesty.
Your support to The New Leam is your contribution towards giving a voice to the voiceless, going to the depths of issues that others shy away from and rigorously illuminating the flame of criticality and courage in dark times. We hope that you will come forward to support The New Leam today so that we can keep delivering quality-independent journalism to you and inform public opinion in the right direction. No matter how big or small your contribution may be, it is tremendously important. It takes only a moment, Support The New Leam now!