The Brave Women of Shaheen Bagh Give 'Chalo Jantar Mantar' Call
29/01/2020
The women of Shaheen Bagh have given a 'Chalo Jantar Mantar' call. Students from JMI and JNU likely to join in.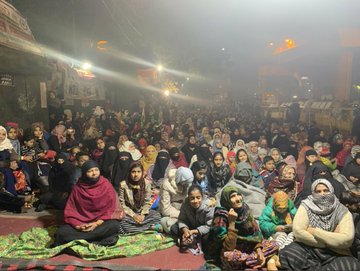 In a latest development from the most vibrant and active political ground in Delhi in  recent times- Shaheen Bagh, the protestors have given a call for walking up to the Jantar Mantar for registering their protest. The Shaheen Bagh area has been witnessing a massive protest against the CAA by hundred of women through a sustained sit-in protest over the last many weeks. 
They have decided to walk from Shaheen Bagh to Jantar Mantar today after a month long sit-in. As per reports, students of Jamia Milia Islamia and JNU are likely to join the protestors from Shaheen Bagh as they march to Jantar Mantar. It is interesting to note that even the elderly women who have been protesting at Shaheen Bagh and are fondly called the 'dadis(grandmothers)of Shaheen Bagh' will be taking part on the march against CAA, NRC,NPR. 
These elderly women are also expected to address protestors at Jantar Mantar today. These protestors are opposing the contentious CAA and have been protesting at Shaheen Bagh since the last one month. 
---
To retain our initiative towards free spirited and independent journalism we require your support |Pay Now
---
The protest is primarily being led by women and hundreds have been flocking in thousands every day. These protestors say they will continue their agitation until the government decides to roll back the Citizenship(Amendment) Act and National Register of Citizens.
Yesterday, an armed man alleged to have links with a political party entered the protest area at Shaheen Bagh and threatened the protestors there. A video clip of the alleged incident shows a man holding a gun.
According to India's amended citizenship law, members of the Hindu, Silh, Buddhist, Jain, Parsi and Christian communities who have come from Pakistan, Bangladesh and Afghanistan till December 31,2014 after facing religious persecution there will not be treated as illegal immigrants and will be granted Indian citizenship. 
Now that you are here...
From bottled water to oxygen cans, not even the basics are free in a market-driven world. Why then, do we take free and independent journalism for granted? We find ourselves at a time when more people like you, are reading and coming out in support of The New Leam's independent, in-depth and throughly issue based journalism than ever before. From grassroot stories and field-reports, to in-depth analysis of the pertinent political issues of our times, to news on gender, culture and educational issues- The New Leam has been dedicated to bringing out stories that speak out the soul of India and take you beyond the propaganda-filled corridors of mainstream journalism in India. We have made an important choice of keeping our journalism free of vested political interests, commercial funding and influence of partisan stakeholders, so that we can bring forward news and stories based on facts and provide a platform where readers can find information with integrity and a journalism premised on honesty.
Your support to The New Leam is your contribution towards giving a voice to the voiceless, going to the depths of issues that others shy away from and rigorously illuminating the flame of criticality and courage in dark times. We hope that you will come forward to support The New Leam today so that we can keep delivering quality-independent journalism to you and inform public opinion in the right direction. No matter how big or small your contribution may be, it is tremendously important. It takes only a moment, Support The New Leam now!