Thousands Take to the Streets of Scotland, Unite to Demand Independence
13/01/2020
Thousands of supporters took the streets of Glasgow demanding independence for Scotland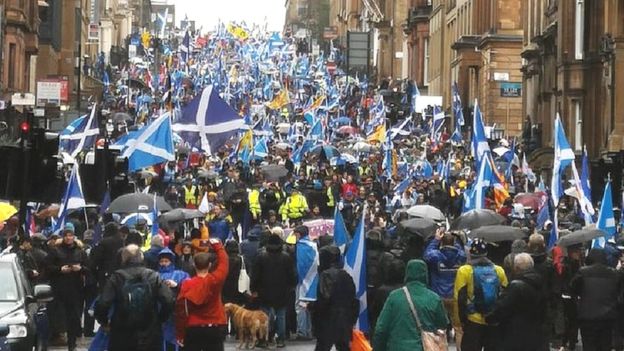 On Saturday, thousands of supporters took to the streets of Glasgow demanding independence for Scotland, reports The Guardian. Organized by the grassroots organization All Under One Banner (AUOB), this was the first of the eight marches they have planned for this year. The march began from Kelvingrove Park and ended at Glasgow Green. Nearly 80,000 protestors joined the march despite the unfavourable weather.
2020 is a crucial year for the movement as Scotland is looking forward to a second referendum for independence. In its manifesto for the general elections, Scottish National Party (SNP) stated that it would hold a second referendum. It won 48 out of 59 seats in the House of Commons. Its vote share was 44%. The previous referendum was held in 2014, wherein 55% people voted against independence from the UK. However, the Scottish Parliament does not have the power to decide on this matter. It required approval from Westminster. SNP leader Nicola Sturgeon insists upon a referendum in late 2020. She released a document titled 'Scotland's Right to Choose', to which UK PM Boris Johnson has assured careful consideration.
AUOB was established in 2014. It is not affiliated with any political party. The next march will be organised at Arbroath in April, followed by one at Glasgow in May. The Arbroath march will also mark the 700th anniversary of the Scottish Declaration of Independence being signed. Meanwhile, events will continue to be organised at Edinburgh, Stirling, Peebles, Elgin, Kirkcaldy, as well as at Glasgow. 
---
To retain our initiative towards free spirited and independent journalism we require your support |Pay Now
---
While the first minister, Ms. Sturgeon, has written to Johnson requesting for transfer of powers to hold the necessary referendum, a spokesperson of UK government has rejected its possibility. Scotland's demand for self-determination has intensified after the certainty of Brexit after the latest general election. SNP wants Scotland to continue being a part of EU. It remains to be seen how the people of Scotland carry on their battle for democracy and independence. 
Now that you are here...
From bottled water to oxygen cans, not even the basics are free in a market-driven world. Why then, do we take free and independent journalism for granted? We find ourselves at a time when more people like you, are reading and coming out in support of The New Leam's independent, in-depth and throughly issue based journalism than ever before. From grassroot stories and field-reports, to in-depth analysis of the pertinent political issues of our times, to news on gender, culture and educational issues- The New Leam has been dedicated to bringing out stories that speak out the soul of India and take you beyond the propaganda-filled corridors of mainstream journalism in India. We have made an important choice of keeping our journalism free of vested political interests, commercial funding and influence of partisan stakeholders, so that we can bring forward news and stories based on facts and provide a platform where readers can find information with integrity and a journalism premised on honesty.
Your support to The New Leam is your contribution towards giving a voice to the voiceless, going to the depths of issues that others shy away from and rigorously illuminating the flame of criticality and courage in dark times. We hope that you will come forward to support The New Leam today so that we can keep delivering quality-independent journalism to you and inform public opinion in the right direction. No matter how big or small your contribution may be, it is tremendously important. It takes only a moment, Support The New Leam now!