When Prime Minister Narendra Modi Met Didi
11/01/2020
PM Narendra Modi met West Bengal CM Mamata Banerjee in Kolkata today, where Ms Banerjee asked the PM to withdraw the contentious CAA. She later joined an Anti-CAA protest.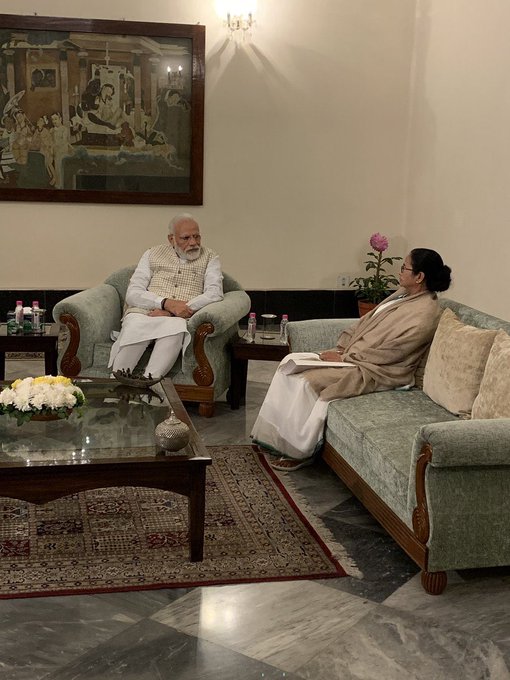 After weeks of heated debate and disagreement on the CAA and the NRC projects, Prime Minister Narendra Modi and West Bengal Chief Minister Mamata Banerjee finally had a meeting today. PM Modi met West Bengal CM Mamata Banerjee as the former is on a two-day visit to Kolkata. The meeting took place at the Raj Bhavan. The meeting was much awaited by the public after a prolonged face-off between the two. The two have been at loggerheads about the ongoing Citizenship Amendment Act(CAA)that have triggered off massive protests throughout the country.
Ms Banerjee is reported to have said, "It was a courtesy call since he has come to Bengal. I told Prime Minister Modi that people of the state are not accepting the CAA, NRC(National Register f Citizens)and NPR(National Population Register). O asked him to rethink these steps."
The Bengal CM Mamata Banerjee has been one of the most staunch critics of the CAA and the NRC projects and has openly gone ahead and expressed her protest against the government's initiatives. PM Modi has asked CM Mamata Banerjee to make a visit to Delhi in order to discuss the CAA and the NRC as he said that this time he had made a visit to West Bengal for a series of other programmes.
---
To retain our initiative towards free spirited and independent journalism we require your support |Pay Now
---
She reminded PM Narendra Modi, "I also reminded him that the Centre owes around Rs 38,000 crore to Bengal including Rs 7,000 crore as relief for Cyclone Bulbul."
PM Modi was received by Bengal Governor Jagdeeep Dhankar, state municipal affairs minister Firhad Hakim, West Bengal BJP President Dilip Ghosh and other major leaders of the BJP from West Bengal. The Kolkata Airport witnessed major protests outside the gate as citizens collected to protest against the CAA. A huge security arrangement is being ensued in view of the PM's visit amidst massive protested against India's new citizenship law.
The first engagement of the PM would be the inauguration of the recently refurbished buildings in Kolkata namely- the Currency Building, Belvedere House, Metcalfe House and Victoria Memorial Gall. The event would take place in the Old Currency building around 5.30pm. At 7pm PM Modi would go to Kolkata's Millennium Park on the banks of the Hoogly and kick off the celebrations of 150 years f the Kolkata Port Trust, India's oldest operational port. MS Banerjee has also received an invitation for this programme. The PM will also inaugurate a new lighting system for the iconic Howrah Bridge.
Minutes after holding a meeting with PM Narendra Modi, Mamata Banerjee attested a sit-in protest organised by her party against the CAA and NRC at the Rani Rashmoni Road.
Now that you are here...
From bottled water to oxygen cans, not even the basics are free in a market-driven world. Why then, do we take free and independent journalism for granted? We find ourselves at a time when more people like you, are reading and coming out in support of The New Leam's independent, in-depth and throughly issue based journalism than ever before. From grassroot stories and field-reports, to in-depth analysis of the pertinent political issues of our times, to news on gender, culture and educational issues- The New Leam has been dedicated to bringing out stories that speak out the soul of India and take you beyond the propaganda-filled corridors of mainstream journalism in India. We have made an important choice of keeping our journalism free of vested political interests, commercial funding and influence of partisan stakeholders, so that we can bring forward news and stories based on facts and provide a platform where readers can find information with integrity and a journalism premised on honesty.
Your support to The New Leam is your contribution towards giving a voice to the voiceless, going to the depths of issues that others shy away from and rigorously illuminating the flame of criticality and courage in dark times. We hope that you will come forward to support The New Leam today so that we can keep delivering quality-independent journalism to you and inform public opinion in the right direction. No matter how big or small your contribution may be, it is tremendously important. It takes only a moment, Support The New Leam now!