Breather for Indian Democracy: "IF" AAP Returns in Delhi
10/02/2020
After a prolonged and aggressive phase of campaigning, Delhi has casted its vote amidst the election fever. What would the results hold for its residents?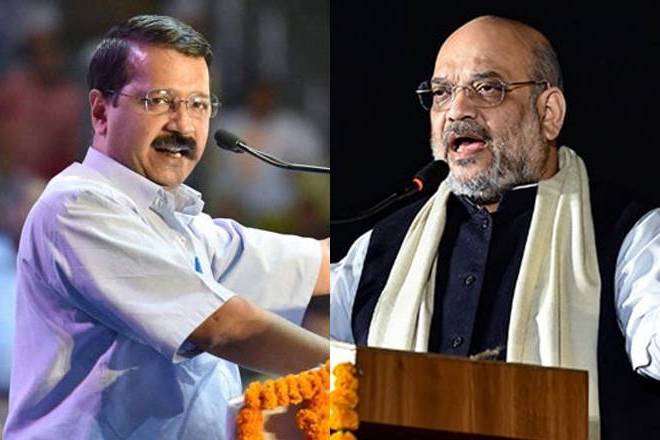 The recently concluded Delhi Assembly elections, witnessed an unprecedented political drama. The entire country watched with horror the toxic election campaigns, that turned a guileless assembly election for 70 seats, into a hostile political theater. Phrases like "Desh ke gaddaron ko, goli maaro…" (Shoot the traitors) replaced statements like 'sabka sath, sabka vikas (development for all).  In a rally, a senior BJP leader sustained his attack on AAP, saying, "Kejriwal cannot even provide clean drinking water to the people of Delhi… According to a (BIS) survey, the Delhi government is making its people drink poisonous water. But it is supplying biryani to those protesting in Shaheen Bagh and elsewhere in the city" (The Wire, 2nd Feb, 2020). BJP's primarily focused on issues like Shaheen Bagh, and divisive Hindu vs Muslim politics. While AAP campaign targeted at gaining mileage from the ground level work done in their tenure, predominantly in health and education sector. In the centre of this profound hate, the key indicators of good governance are mislaid. AAP spoke of bettering government schools and mohalla clinics, BJP placed efforts on activating communalism. 
Exit Poll Projection: A Ray of Hope
Post the culmination of elections on 8th February, 2020, the exit polls have been projecting that the AAP is set to return with a thumping majority. "The Times Now-IPSOS poll was the most conservative in projection an AAP victory, giving the party between 44 and 50 seats with a slight decline from its 2015 figure of 54.3%. It gave BJP between 20 and 26 seats compared with the three it won in 2015" (TOI, 9th Feb, 2020). On the other hand, the "India Today-My Axis poll gave AAP between 59 and 68 seats with a vote share of 56%" (ibid..), implying that results would be better than 2015.
---
To retain our initiative towards free spirited and independent journalism we require your support |Pay Now
---
Without romanticising the exit polls or being over aspirational, one is bound to consider the victory of AAP as a sign of breather for Indian democracy. As projected by exit polls, if AAP wins the Delhi assembly elections, the ventilator on which Indian politics is currently sustaining on can be weaned off. 
In Summation
"Democracy must be something more than two wolves and a sheep voting on what to have for dinner." ― James Bovard, Lost Rights: The Destruction of American Liberty
Indian politicians ought to know that people of the largest democracy is watching and cannot be fooled by divisive politics for far too long. Arguably, befuddled in the name of caste, class, religion and region, the voter does falter. However, in the long run it is vikas (development) that the average Indian voter is looking for. 
Note, as per the India Today-Axis My India exit poll, from General Election 2019, "about 48 per cent voters have shifted from the BJP to the AAP. The 48 per cent voters comprise a large chunk of the lower and lower-middle-class… also abrogation of Article 370, Ram Mandir, Triple Talaq Act, Citizenship Amendment Act (CAA) and Shaheen Bagh were not recalled specifically by more than 2 per cent of people. National security was an issue for at least 6 per cent of the people who voted for the BJP" (India Today, 9th Feb, 2020).
The message is clear not only for Delhi, but for rest of India, that shelling out freebies like free bus ride scheme for women in the name of vikas will not help, nor will hate speeches and war mongering work. Tangible and sustainable economic growth, job opportunities both in the public and private sector, sustaining and making public airlines, railways profitable, affordable health care, better education facilities in the public sphere and socio-cultural freedom is what the India wants. 
References
Bullets, Biryani, Shaheen Bagh: The Essence of Adityanath's Delhi Poll Speeches. (2020, February 2). India. Retrieved from https://thewire.in/politics/delhi-assembly-polls-adityanath
Delhi assembly elections: Exit polls predict another big mandate for AAP; BJP to make gains. (2020, February 9). India. Retrieved from https://timesofindia.indiatimes.com/articleshow/74036452.cms?utm_source=contentofinterest&utm_medium=text&utm_campaign=cppst
Exit polls: Arvind Kejriwal first choice for CM, only 21% Delhi voters want Manoj Tiwari. (2020, February 9). India. Retrieved from https://www.indiatoday.in/elections/delhi-assembly-polls-2020/story/exit-polls-delhi-elections-arvind-kejriwal-manoj-tiwari-1644688-2020-02-09
Now that you are here...
From bottled water to oxygen cans, not even the basics are free in a market-driven world. Why then, do we take free and independent journalism for granted? We find ourselves at a time when more people like you, are reading and coming out in support of The New Leam's independent, in-depth and throughly issue based journalism than ever before. From grassroot stories and field-reports, to in-depth analysis of the pertinent political issues of our times, to news on gender, culture and educational issues- The New Leam has been dedicated to bringing out stories that speak out the soul of India and take you beyond the propaganda-filled corridors of mainstream journalism in India. We have made an important choice of keeping our journalism free of vested political interests, commercial funding and influence of partisan stakeholders, so that we can bring forward news and stories based on facts and provide a platform where readers can find information with integrity and a journalism premised on honesty.
Your support to The New Leam is your contribution towards giving a voice to the voiceless, going to the depths of issues that others shy away from and rigorously illuminating the flame of criticality and courage in dark times. We hope that you will come forward to support The New Leam today so that we can keep delivering quality-independent journalism to you and inform public opinion in the right direction. No matter how big or small your contribution may be, it is tremendously important. It takes only a moment, Support The New Leam now!