Brutal State: UP Police detained and tortured children during anti-CAA protests
14/02/2020
The UP Police detained and tortured children during protests against the contentious CAA in several parts of Uttar Pradesh according to a fact finding committee.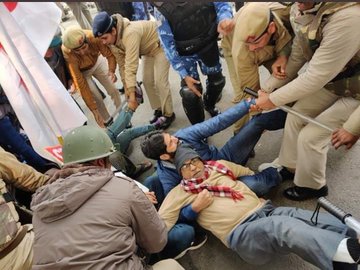 Over 40 children were detained and some of them were tortured by UP police in December 2019, reveals a fact-finding report by three civil society organizations. The worst affected districts were Muzaffarnagar, Bijnor, and Faridabad which have a comparatively high concentration of Muslim population. In the month of January, the organizations Citizens Against Hate, Quill Foundation, and Haq: Centre for Child Rights sent their team of researchers to get insights from the field. 
Terrifying accounts
On December 20, 2019, the police of Muzaffarnagar entered the compound of Saadat madrasa and filed FIRs against four minors. The charges? They had allegedly participated in anti-CAA protests. The students were detained by the police for twelve days. They were denied water to break their Friday fast. They were abused and the police made obnoxious comments against Islam and the Prophet. They were forced to chant Jay Shree Ram. 
---
To retain our initiative towards free spirited and independent journalism we require your support |Pay Now
---
On the same day, 22 minors from Nagina in Bijnor were detained and beaten up for two days. The mother of one of the minors reported that they were first taken to a police station and later shifted to the farmhouse of an MLA belonging to BJP. Her son's lower body had turned blue due to being thrashed. He could barely walk. They were neither provided blankets in the shivering winter nor allowed to sleep. Closing one's eyes or asking to use the toilet meant another round of being beaten up by batons. Children suffered from bruises, bleeding and fractures. In Firozabad, two detained minors were not provided legal aid. Two children suffered from bullet injuries in Lucknow. 
Where fear reigns 
The police did not stop at the physical violence and torture. Attempts at intimidation included putting up posters with pictures of suspects (including children and minors) and rewards for information on their whereabouts. This forced many Muslim families to fear for their lives and particularly those of their minor children. Worse, the principal of the aforementioned madrasa was forced to sign an affidavit asserting that none of their children was tortured; only then were they released. 
With this, the police has violated scores of international laws as well, including UN Convention on the Rights of the Child. First and foremost, this inhuman treatment of children is a gross violation of the provisions of the Juvenile Justice Act, 2015. The parents of the children were not informed that their children were detained. In detention, the children were ruthlessly punished for petty offences, and also made to see adults being tortured. However, UP police has downright denied any infliction of torture on any minors. 
Protectors or predators?
Recently a sedition case was registered against a Karnataka school for a play against CAA. Why are children and youth becoming the new villains or enemies of the state? Subjecting young children to merciless physical and emotional violence is a crime against humanity. In no circumstances can the state and its institutions become brutal and ruthless and commit such heinous crimes themselves. It sends out an extremely disturbing message that violence is justified in the name of nationalism. The recent firing incidents at Jamia and Shaheen Bagh emerge from this impunity that the state enjoys when it comes to crimes against children and citizens. Such atrocities of the police for national security must be condemned. We as citizens through the judiciary must hold the police accountable for its fear-mongering, monstrosity and inhumanity.
Now that you are here...
From bottled water to oxygen cans, not even the basics are free in a market-driven world. Why then, do we take free and independent journalism for granted? We find ourselves at a time when more people like you, are reading and coming out in support of The New Leam's independent, in-depth and throughly issue based journalism than ever before. From grassroot stories and field-reports, to in-depth analysis of the pertinent political issues of our times, to news on gender, culture and educational issues- The New Leam has been dedicated to bringing out stories that speak out the soul of India and take you beyond the propaganda-filled corridors of mainstream journalism in India. We have made an important choice of keeping our journalism free of vested political interests, commercial funding and influence of partisan stakeholders, so that we can bring forward news and stories based on facts and provide a platform where readers can find information with integrity and a journalism premised on honesty.
Your support to The New Leam is your contribution towards giving a voice to the voiceless, going to the depths of issues that others shy away from and rigorously illuminating the flame of criticality and courage in dark times. We hope that you will come forward to support The New Leam today so that we can keep delivering quality-independent journalism to you and inform public opinion in the right direction. No matter how big or small your contribution may be, it is tremendously important. It takes only a moment, Support The New Leam now!