Meet Boro Baski: The Educator Who Set Up a School for Indigenous Children in West Bengal
22/02/2020
Baski is an inspiration for many who aim to put their knowledge into practice by working for the upliftment of their communities. He truly stands as an inspiration before us all.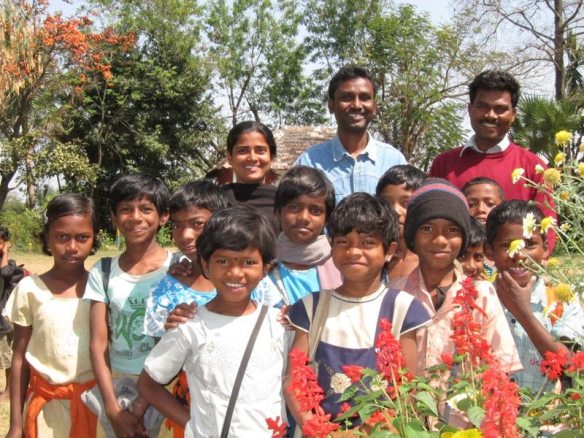 Born in a Santhal family of agricultural labourers, Boro Baski was the first in his village to obtain formal education. His mother was Christian; one of her brothers who was a teacher himself persuaded Baski's parents to send him to a missionary boarding school situated 50 km away. He also paid the fee. The eleven years he spent at boarding school made him realize that there was more than one world; the other one being completely different from his own. Santhali was his first language. Here he had to learn Bengali, an entirely new language which was the medium of instruction. From language to the atmosphere, every moment demanded adaptation. One fateful evening in the late 1970s, he met Sona Murmu, another local boy accompanying a German researcher, Martin Kampchen at a railway station 6 km away from his village. That was when he found his calling. 
Coaching lessons to prevent dropouts
Sona was the only boy from his village to have acquired secondary education. Kampchen was guiding him to take coaching classes in the evening for the other indigenous children. He would teach them and help them cope with studies so that they are not forced to drop out of school. Kampchen visited Baski six months later, asking him to do the same in his village. 
---
To retain our initiative towards free spirited and independent journalism we require your support |Pay Now
---
The trio established an NGO named Ghosaldanga Adibasi Seva Sangha (GASS) to take their initiative forward. In 1996 came up Rolf Schoemb Vidyashram (RSV), a day school for, by and of the community. This was a shining example of Gramsci's notion of organic intellectuals – how leaders from the subaltern groups should take the lead in steering their community towards progress. Free education and meals are provided to children. It currently has 146 students between kindergarten and fourth year. It is run by donations while the study material is provided by the government. It has also started providing computer and video training to Santhal children. 
An innovative pedagogy
Students begin with learning in their own language, gradually progressing to Bengali and later, English. Extracurricular activities such as clay modelling, art, music, gardening, and farming are also encouraged. Hostel accommodation is available for children above fourth year studying in schools situated farther. The idea is to identify talents and nurture them so that every child can be in school, learn well, and fulfil one's dreams. 
Now in his late fifties, Baski holds a doctorate in education and is happy to be an educator. At the same time, he is also passionately working for preserving Santhal heritage and culture through the NGO. While he wants children from his community to attain formal education, he also wants them to be proud of and preserve their culture and tradition. Baski is an inspiration for many who aim to put their knowledge into practice by working for the upliftment of their community. After all, that is where development comes from within. 
Now that you are here...
From bottled water to oxygen cans, not even the basics are free in a market-driven world. Why then, do we take free and independent journalism for granted? We find ourselves at a time when more people like you, are reading and coming out in support of The New Leam's independent, in-depth and throughly issue based journalism than ever before. From grassroot stories and field-reports, to in-depth analysis of the pertinent political issues of our times, to news on gender, culture and educational issues- The New Leam has been dedicated to bringing out stories that speak out the soul of India and take you beyond the propaganda-filled corridors of mainstream journalism in India. We have made an important choice of keeping our journalism free of vested political interests, commercial funding and influence of partisan stakeholders, so that we can bring forward news and stories based on facts and provide a platform where readers can find information with integrity and a journalism premised on honesty.
Your support to The New Leam is your contribution towards giving a voice to the voiceless, going to the depths of issues that others shy away from and rigorously illuminating the flame of criticality and courage in dark times. We hope that you will come forward to support The New Leam today so that we can keep delivering quality-independent journalism to you and inform public opinion in the right direction. No matter how big or small your contribution may be, it is tremendously important. It takes only a moment, Support The New Leam now!