Modi's Life from Chaiwala to PM Underscores India's Possibilities: US President Donald Trump 
24/02/2020
US President Donald Trump addressed lakhs of people at Motera stadium in Ahmedabad today.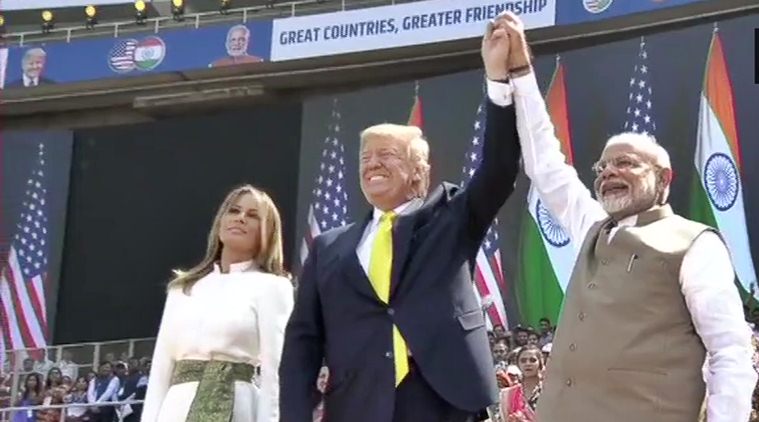 American President Donald Trump is finally here in India and is making the much anticipated address at the Motera Stadium in Ahmedabad. He was cheered with a massive crowd at the cricket stadium. 
He heaped a heavy dose of praise on Indian PM Narendra Modi at the lavish reception that had been organised for his welcome at the stadium. Donald Trump's visit to India began today and he is scheduled to travel to Agra and Delhi after his address at Ahmedabad. 
In his remarks that he delivered in front of a thundering crowd, President Donald Trump called Prime Minister Narendra Modi a "living proof" that Indians can accomplish "anything they want" through hard work.
---
To retain our initiative towards free spirited and independent journalism we require your support |Pay Now
---
President Donald Trump said that while everybody loved PM Narendra Modi, he was indeed a very tough leader. Donald Trump floated many crowd pleasers throughout his speech and paid tributes to several Indians such as cricketers Sachin Tendulkar and Virat Kohli and another shoutout was given to the contributions made by Bollywood and especially to DDLJ.
President Donald Trump and First Lady Melania Trump had arrived at the Ahmedabad Airport before noon and traveled first to the Sabarmati Ashram and tried his hand at the spinning wheel. He will later travel to Agra, Uttar Pradesh to see the Taj Mahal before flying to New Delhi.
Now that you are here...
From bottled water to oxygen cans, not even the basics are free in a market-driven world. Why then, do we take free and independent journalism for granted? We find ourselves at a time when more people like you, are reading and coming out in support of The New Leam's independent, in-depth and throughly issue based journalism than ever before. From grassroot stories and field-reports, to in-depth analysis of the pertinent political issues of our times, to news on gender, culture and educational issues- The New Leam has been dedicated to bringing out stories that speak out the soul of India and take you beyond the propaganda-filled corridors of mainstream journalism in India. We have made an important choice of keeping our journalism free of vested political interests, commercial funding and influence of partisan stakeholders, so that we can bring forward news and stories based on facts and provide a platform where readers can find information with integrity and a journalism premised on honesty.
Your support to The New Leam is your contribution towards giving a voice to the voiceless, going to the depths of issues that others shy away from and rigorously illuminating the flame of criticality and courage in dark times. We hope that you will come forward to support The New Leam today so that we can keep delivering quality-independent journalism to you and inform public opinion in the right direction. No matter how big or small your contribution may be, it is tremendously important. It takes only a moment, Support The New Leam now!