Union Minister Giriraj Singh's Derogatory Comments on Shaheen Bagh: A Reminder of Our Political Degeneration
13/02/2020
Union Minister Giriraj Singh's comments on Deoband seminary and Shaheen Bagh are highly controversial, reminding us of the normalisation of an insensitive political milieu.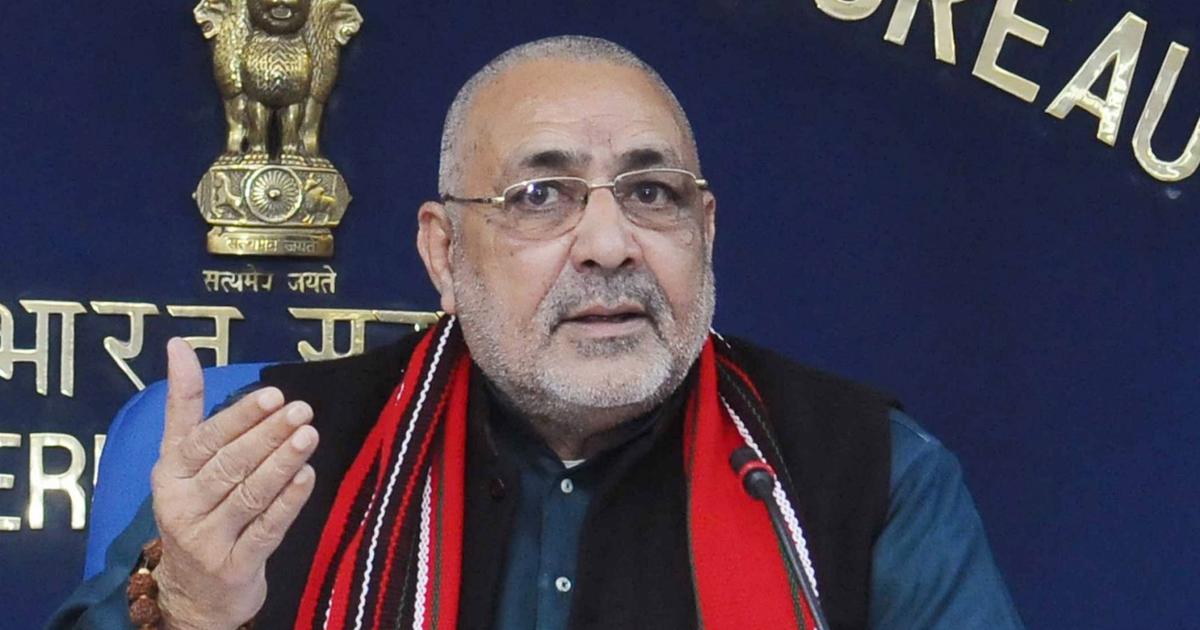 Union Minister Giriraj Singh is known for his controversial remarks and inflammatory speeches. But the remarks that he recently issued against the women protesting against the contentious Citizenship(Amendment)Act in Delhi's Shaheen Bagh for about two months, is a thorough display of his political insensitivity towards them.
While it is true that even in the past we have heard him make many controversial remarks and often indulge in speeches premised on communal hatred, his targeting of the women protestors at Shaheen Bagh is as tragic and politically incorrect as can be.  He recently issued a statement on the protestors of Shaheen Bagh and said, "This Shaheen Bagh protest is no longer an agitation. A group of suicide bombers is being raised here and conspiracy against the country is being hatched in its capital." Recently he also ran himself into controversy after he said that the Islamic Seminary in Uttar Pradesh's Deoband is "aatankvaad ki Gangotri"(source of terrorists). He said that all the most wanted terrorists of India and the world had some sort of a connection to Deoband, including parliament attack accused Hafiz Saeed. He also said that places like Deoband in Uttar Pradesh, Shaheen Bagh in Delhi were breeding grounds for suicide bombers. He said that these protestors were not only against the CAA but also against the very fabric of India as a nation and were indulging in some sort of a Khilafat movement against the nation. He went on to also repeat a controversial comment that he had made upon the women protestors of Shaheen Bagh, where Muslim women and children have been doing a continuous sit-in for the last two months against the contentious CAA.
Union Minister Giriraj Singh is not the only minister from the ruling party to make such controversial remarks targeting the minority community but even in the last couple of weeks we have seen how several leaders from the establishment have called the anti-CAA protestors things like "traitors and terrorists". The CAA enables all non-Muslims from Pakistan, Bangladesh and Afghanistan to become eligible for Indian citizenship if they escaped religious persecution and came to Indian before 2015. The critics have accused the government of being discriminatory towards the Muslims by excluding them from such an offer at citizenship. The point however is to what extent can a democratic country like India tolerate such kind of aggressive, communally charged and insensitive usage of words? Or has our political culture degenerated to an extent that we no longer problematise usage of such derogatory words against the other?
---
To retain our initiative towards free spirited and independent journalism we require your support |Pay Now
---
Now that you are here...
From bottled water to oxygen cans, not even the basics are free in a market-driven world. Why then, do we take free and independent journalism for granted? We find ourselves at a time when more people like you, are reading and coming out in support of The New Leam's independent, in-depth and throughly issue based journalism than ever before. From grassroot stories and field-reports, to in-depth analysis of the pertinent political issues of our times, to news on gender, culture and educational issues- The New Leam has been dedicated to bringing out stories that speak out the soul of India and take you beyond the propaganda-filled corridors of mainstream journalism in India. We have made an important choice of keeping our journalism free of vested political interests, commercial funding and influence of partisan stakeholders, so that we can bring forward news and stories based on facts and provide a platform where readers can find information with integrity and a journalism premised on honesty.
Your support to The New Leam is your contribution towards giving a voice to the voiceless, going to the depths of issues that others shy away from and rigorously illuminating the flame of criticality and courage in dark times. We hope that you will come forward to support The New Leam today so that we can keep delivering quality-independent journalism to you and inform public opinion in the right direction. No matter how big or small your contribution may be, it is tremendously important. It takes only a moment, Support The New Leam now!