Who is Responsible for the Unfortunate and Alarming Violence in Delhi?
26/02/2020
Northeastern Delhi is witnessing unprecedented violence as groups of young men set ablaze shops and homes belonging to Muslims.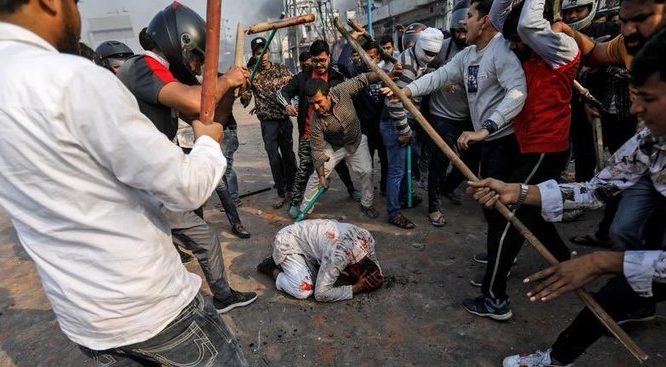 Just kilometres away from where Indian PM Narendra Modi was holding a series of dialogues with American President Donald Trump, violence was breaking out and ordinary lives were being devastated ruthlessly. Parts of northeast Delhi saw extreme communal frenzy and a great degree of violence with more than 250 people being inured and the death roll rising to 20. 
The clash that ultimately took an extremely violent and communal turn started off on the weekend with Anti-CAA and Pro-CAA clashing against each other in the locality. 
The violence first broke out in localities in the north-eastern parts of Delhi such as in Jaffrabad and Bhajanpura and then gradually spread to most muslim dominated neighbourhoods in the vicinity. 
---
To retain our initiative towards free spirited and independent journalism we require your support |Pay Now
---
The death toll in this extreme violence that has unfolded in the Capital has claimed 20 lives and injured more than 250 people. Most of the victims of this violence have been injured or have died due to bullet injuries. 
The reports suggest that many groups of men roamed these parts of the city with rods and sticks in their hands, setting ablaze shops owned by Muslims. The inaction of the Delhi Police is also being condemned in the regard as it was a mere spectator as the violence unfolded and destructed the lives of ordinary people. 
Earlier in the day, the Delhi High Court had issued a note seeking a response by noon on the same day regarding the action being taken against those who could be identified as in citing violence. A bench of Justices S Muralidhar and Talent Singh said that the police should not wait for court orders but take action on its own in order to control the situation. The High Court had been hearing a petition seeking judicial inquiry and registration of FIRs against the three BJP leaders- Anurag Thakur, Parvesh Singh and Kapil Mishra for having allegedly issued provocative statements against those protesting against the contentious citizenship amendment law. 
The riots and mob frenzy erupted just 24 hours after Kapil Mishra issued these statements. On Tuesday ,a greater degree of police and paramilitary forces were sent to control the situation. According to the police, about 20 people have been detained for violence and shoot-at-sight orders have been issued. As violence has been erupting in Delhi in an uncontrollable manner, Chief Minister Arvind Kejriwal wrote to Union Home Minister Amit Shah and asked him to bring in the Army to control the situation, which he called "alarming." 
He said that the Delhi Police was capable of bringing the situation under control.
Now that you are here...
From bottled water to oxygen cans, not even the basics are free in a market-driven world. Why then, do we take free and independent journalism for granted? We find ourselves at a time when more people like you, are reading and coming out in support of The New Leam's independent, in-depth and throughly issue based journalism than ever before. From grassroot stories and field-reports, to in-depth analysis of the pertinent political issues of our times, to news on gender, culture and educational issues- The New Leam has been dedicated to bringing out stories that speak out the soul of India and take you beyond the propaganda-filled corridors of mainstream journalism in India. We have made an important choice of keeping our journalism free of vested political interests, commercial funding and influence of partisan stakeholders, so that we can bring forward news and stories based on facts and provide a platform where readers can find information with integrity and a journalism premised on honesty.
Your support to The New Leam is your contribution towards giving a voice to the voiceless, going to the depths of issues that others shy away from and rigorously illuminating the flame of criticality and courage in dark times. We hope that you will come forward to support The New Leam today so that we can keep delivering quality-independent journalism to you and inform public opinion in the right direction. No matter how big or small your contribution may be, it is tremendously important. It takes only a moment, Support The New Leam now!