Women in India's Informal Sector: Marginality and Inequality Underline Gender Gap
13/05/2020
Women's participation in the informal economy is phenomenal but their representation is insignificant. There is a need to secure the livelihoods of the working poor and especially the women employed in the informal economy.
Women have a very important role as far as the informal economy of the country is concerned and it is through their tremendous labour and hard-work that they keep it functional alongside their male counterparts. But despite their important contribution to the informal economy and their overwhelming presence in it, they remain the lesser paid, lesser acknowledged and less enumerated parts of it.
Women workers occupy many low-paying, dangerous and life-threatening positions in factories, industrial units, construction sites etc and work under extremely hazardous conditions. These women are not only paid less at the work site but also have access to far fewer resources and are much more vulnerable to risks when compared to their male counterparts.
Women's Vulnerability Due to the Pandemic
---
To retain our initiative towards free spirited and independent journalism we require your support |Pay Now
---
The coronavirus pandemic and the associated nationwide lockdown has brought forward unprecedented moments of crisis and anguish for such women employed in the informal economy.
Take the case of home based workers for example who have been toiling day in and out for producing goods to be sold in the market from their homes- they are left with no source of income right now. Estimates tell us that one-third of women workers in the Indian informal sector are based out of their homes and the closure of markets, has robbed them of all possibilities of earning a livelihood. The current scenario in the country means that customers have stopped placing orders and this had completely broken the cash flow channel, hunger has already been posing a great threat on countless such women.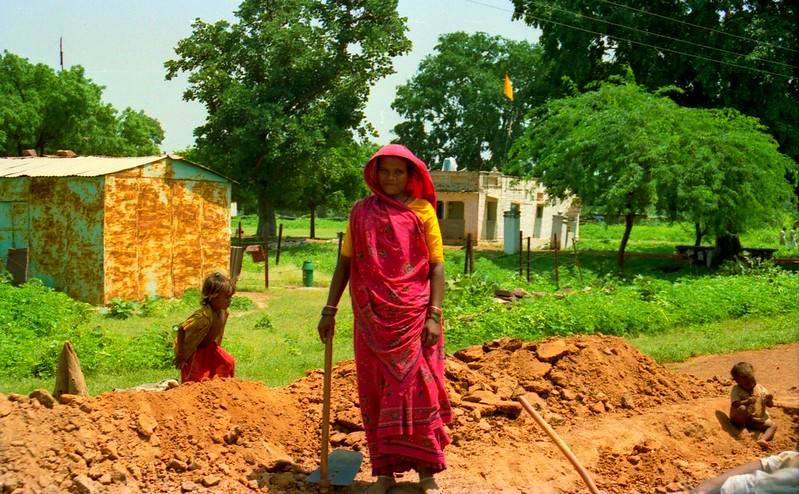 Apart from experiencing extensive business loses, what has become extremely challenging for these women is the fact that they shoulder a disproportionate amount of domestic and care giving responsibilities within the domestic unit. Such duties put an additional burden on them.
In many cases, women also have to go outside to fulfil their domestic responsibilities such as walking to a nearby water source to fill up buckets of water for domestic consumption or having to travel to a common toilet in the neighbourhood in times of need when the domestic unit doesn't have one.
Poor habitats with lack of sanitation services and access to clean drinking water make women more vulnerable and prone to diseases. Moreover, given the fact that these women are employed in the informal economy it becomes exceedingly challenging for them to get any assistance from the government as far as health covers or security is concerned. In a country like India, such workers don't have access to state sponsored preventive, promotive or curative healthcare. This makes such women even more vulnerable during a pandemic such as this.
Taking Policies to the Grassroots
Therefore it is extremely important for the nation-state to take cognisance of the fact that state policy goes far beyond just occasional relief work and brings the workers of the informal sector under its protective umbrella.
Such an inclusive approach would ensure that the poorest of poor gets medical attention in need and is not threatened by starvation upon the loss of livelihoods.
One of the most significant ways in which the nation-state can achieve this is through generating some sort of an income security scheme for the workers employed in the informal sector and make it mandatory for employers to retain as well as pay employees in moments of crisis such as the coronavirus lockdown.
The government must give direct cash transfers and monetary benefits along with emergency wages for at least three months to such sections of the population.
Such a scheme may also have provisions for being extended if the situation demands so. We also cannot ignore the responsibilities and accountability of employers so that no brands or cooperatives and no resident welfare associations for domestic helpers can fire or cut the salaries of these women workers in these times of crisis and that their minimum wages are covered so that they have protection. The government should not step back merely after appealing to employers to stand by employees in these difficult times but must have stringent directives in place to ensure that workers are really protected.
The government must also not run away from its responsibility of providing quality and affordable healthcare facilities to workers in the informal sector. It must work towards universalising healthcare and covering people employed in the informal economy too. There is a need for the government to ensure that employees in the informal sector and especially the women are provided safe working conditions and are not exploited or harassed by employers. However, recent attempts to modify the labour laws and labour codes and especially those pertaining to social security are a clear indication of the withering away of workers' rights in the present scenario.  Finally there is a need for the government to ensure that more and more job opportunities can be made available to women workers after the pandemic is over. Training and skill development programs that can fetch them better employment options can be an important step.
The coronavirus pandemic has given us all a moment to think about the extremely significant roles that thousands of women workers in the informal sector play and the deeply unequal and regressive social and economic structures that engulf us.
The condition and plight in which India's working class finds itself paints a dismal picture of entrenched socio-economic inequalities in the country.
Unguarded, illiterate and poor women are the most vulnerable, but are we doing enough to create an economy guided by justice and equality and not driven by corporate motives?
Now that you are here...
From bottled water to oxygen cans, not even the basics are free in a market-driven world. Why then, do we take free and independent journalism for granted? We find ourselves at a time when more people like you, are reading and coming out in support of The New Leam's independent, in-depth and throughly issue based journalism than ever before. From grassroot stories and field-reports, to in-depth analysis of the pertinent political issues of our times, to news on gender, culture and educational issues- The New Leam has been dedicated to bringing out stories that speak out the soul of India and take you beyond the propaganda-filled corridors of mainstream journalism in India. We have made an important choice of keeping our journalism free of vested political interests, commercial funding and influence of partisan stakeholders, so that we can bring forward news and stories based on facts and provide a platform where readers can find information with integrity and a journalism premised on honesty.
Your support to The New Leam is your contribution towards giving a voice to the voiceless, going to the depths of issues that others shy away from and rigorously illuminating the flame of criticality and courage in dark times. We hope that you will come forward to support The New Leam today so that we can keep delivering quality-independent journalism to you and inform public opinion in the right direction. No matter how big or small your contribution may be, it is tremendously important. It takes only a moment, Support The New Leam now!